​Maureen Black
University of Maryland School of Medicine
John A. Scholl, M.D. and Mary Louise Scholl, M.D. Professor in Pediatrics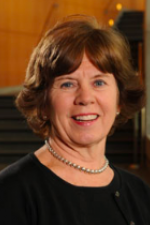 Maureen Black is the John A. Scholl, M.D. and Mary Louise Scholl, M.D. Endowed Professor in the Department of Pediatrics and the Department of Epidemiology and Public Health at the University of Maryland School of Medicine and founder/director of the Growth and Nutrition Clinic, a multidisciplinary clinic that provides services to Maryland children with poor growth and feeding problems. She is an adjunct professor in the Center for Human Nutrition, Johns Hopkins Bloomberg School of Public Health and the Department of Psychology at the University of Maryland Baltimore County. Black is a pediatric psychologist who specializes in intervention research related to children's nutrition, health, and development conducted in low-income communities in Baltimore and in developing countries.
Black is chief of the University of Maryland's Division of Growth and Nutrition.  She has a long-standing interest in child development, beginning with a fellowship in developmental disabilities at the Neuropsychiatric Institute at UCLA. She is a principal investigator for Children's HealthWatch, a multi-site initiative among Growth and Nutrition Clinics in seven cities that monitors the wellbeing of young children in low-income communities. She has successfully attracted federal funding from NIH, USDA, and several national foundations to conduct intervention trials to promote growth and development among undernourished children, to build parenting skills among adolescent mothers, to follow children who have been prenatally exposed to drugs, and to prevent obesity among toddlers and adolescence.
Black has been president of two divisions of the American Psychological Association, chair of the Maryland WIC Advisory Committee, chair of the Child Health Foundation, a founding member of the Global Child Development Group, and has served on committees for several professional societies, UNICEF, WHO, and the Institute of Medicine. She has a bachelor's degree in mathematics from Penn State University, an M.A. from the University of Southern California and a Ph.D. in psychology from Emory University in Atlanta.
Recent Posts by ​Maureen Black
Full video and powerpoint presentations; "Return on Investment: The Case for Early Childhood Development​"; March 11, 2017.