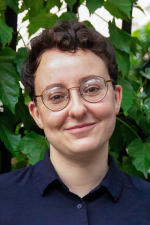 Camille Baker is the Dart Center's Online Editor. They are also a freelance journalist, researcher and fact checker. They've covered migration, surveillance technology, arms exports, trans rights and more for The Intercept, Democracy Now!, New York Magazine, Al Jazeera English, Quartz, The Indypendent, In These Times, CityLab and other news organizations. They're a graduate of the Columbia Journalism School and McGill University, and have taught reporting, writing and economics journalism at the School of the New York Times. You can follow them on Twitter at @camillembaker.
Recent Posts by Camille Baker
In the last months, the remains of over a thousand people, including at least hundreds of Indigenous children, have been discovered on the properties of former residential schools in British Columbia and Saskatchewan. These discoveries have brought to the fore — for now — a subject that has long remained at the margins of mainstream media coverage in the United States: the genocide of millions of Indigenous people by colonizers.