Angelina Fusco
DCE Board Chair, 2014 Senior Fellow, 2012 Ochberg Fellow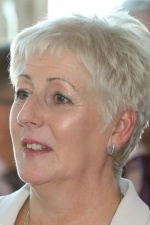 Angelina Fusco is Chair of Dart Centre Europe, and one of its associate trainers in journalism and trauma. She was a recipient of a Dart Center Ochberg Fellowship in 2012 and was a Senior Fellow in 2014.
Fusco, who lives in Belfast, spent 30 years as a journalist in the newsroom of BBC Northern Ireland, half of that time as Editor of Television News. She led teams covering some of the most politically complex, editorially challenging and sensitive stories in any part of Western Europe. Many of her broadcasts involved stories which generated world headlines, ranging from the Omagh bombing to IRA and Loyalist ceasefires, from the 100th anniversary of the Titanic to Royal and US Presidential visits. Angelina has also worked  as a senior trainer at the BBC College of Journalism, working with senior staff from the BBC and other news organisations from around the world.
Fusco is a communications and media trainer for the Belfast company, Channel56 and sits on Ofcom's Advisory Committee in Northern Ireland and is a former member of the organisation's Content Board. She is on the Board of Tourism NI and Chair of its audit & risk committee. Angelina served two terms at the  National Lottery Heritage Fund, NI.