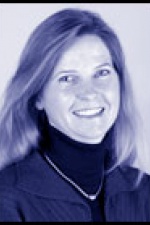 Carol Smith is the senior profile writer for the the Seattle Post-Intelligencer and specializes in medicine and science reporting. She's worked at the newspaper for 13 years, with a five-year break from 1992-97. During that hiatus, she worked as a free-lance business columnist for the Los Angeles Times and also continued a business column for the P-I.
Born in Pasadena, Calif., Smith obtained a B.S. degree in chemistry from Stanford University and an M.S. degree in plant pathology from the University of Wisconsin, Madison. In 1982 she won an American Association for the Advancement of Science Mass Media Fellowship for scientists interested in the media, which is how she came to pursue a career in science and business journalism.
After serving her fellowship at the Charlotte Observer in Charlotte, N.C., she spent three years as a business and technology reporter for the Journal-American in Bellevue, Washington. She has also freelanced for a variety of magazines, including Forbes and Redbook.
Smith's work has been recognized nationally and regionally by the American Legion Auxiliary, the Society of Professional Journalists, Best of the West contest, the Hearst Corporation, and the Washington Press Association. She was a finalist for the Goldsmith Prize in Investigative Journalism and won the Upton Sinclair Award in 2001as well as the C.B. Blethen Award for Investigative Reporting. Smith has also received awards from the Seattle Writer's Association and the Pacific Northwest Writer's Association for her essays and poetry.
Recent Posts by Carol Smith
The story of a man left to care for his infant son after his wife committed suicide while suffering severe post-partum depression. Originally published in the Seattle Post-Intelligencer (Seattle, WA), in 2003.