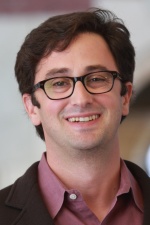 Domenic Vitiello is Assistant Professor of City & Regional Planning at the University of Pennsylvania where he teaches courses on community development, food systems, immigration, and urban and planning history. Dr Vitiello also teaches at Penn's Urban Studies Program and is a senior fellow of Penn's Center for Public Health Initiatives. Trained as a planner and historian, Dr Vitiello's research focuses on community and economic development institutions, migration, and urban agriculture. His historical scholarship includes books on the economic development and decline of Philadelphia, and articles in the various academic journals.
As a practitioner, Dr Vitiello has worked with public, private, and third sector organizations in community development and food system planning. He has served as founding president of the Philadelphia Orchard Project; board chair of JUNTOS/Casa de los Soles; and on the boards of the African Cultural Alliance of North America and the Society for American City and Regional Planning History. He has received the Michael B. Katz Award for Excellence in Teaching in Urban Studies and the G. Holmes Perkins Award for Distinguished Teaching in the School of Design. His current research examines community development in immigrant communities and the contribution of urban agriculture to community food security. He is authoring a book comparing community development in the Puerto Rican, Chinese, Southeast Asian, Korean, African, Arab and Mexican communities in Philadelphia. He helps lead the Philadelphia Migration Project.
Recent Posts by Domenic Vitiello
In this video, Domenic Vitello walks workshop participants through the local history and demographics of Philadelphia's immigrants and refugees.