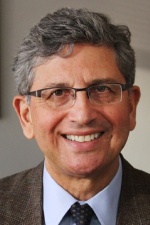 Edward Schumacher-Matos is the currently the James Madison Visiting Professor on First Amendment Issues at Columbia Journalism School. He is also the ombudsman for NPR. He has spent more than three decades working as a reporter and editor in the United States and abroad for some of the nation's most prestigious news outlets. Recently, Schumacher-Matos wrote a syndicated weekly column for The Washington Post and was the ombudsman for The Miami Herald. Earlier, he founded four Spanish-language daily newspapers in Houston, San Antonio, Austin, and the Rio Grande Valley; served as the founding editor and associate publisher of the Wall Street Journal's Spanish and Portuguese insert editions in Latin America, Spain, and Portugal; and reported for The New York Times as Madrid Bureau Chief, Buenos Aires Bureau Chief, and the paper's NYC economic development reporter. At The Philadelphia Inquirer, Schumacher-Matos was part of the team that won a 1980 Pulitzer Prize for coverage of the Three Mile Island nuclear power plant accident.
For the last four years, Schumacher-Matos was also at Harvard University, serving as the Robert F. Kennedy Visiting Professor in Latin American Studies at the Kennedy School of Government; a Shorenstein Fellow on the Press, Politics and Public Policy; and director of the Migration and Integration Studies Program. He is a member of the International Advisory Board of IE University Graduate School of Business in Madrid and the Tomas Rivera Policy Institute at the University of Southern California. He also is active in the Council on Foreign Relations, the Americas Society/Council of the Americas, and the Inter American Press Association.
Schumacher-Matos received his Master of Arts degree in International Politics and Economics from the Fletcher School of Law and Diplomacy at Tufts, and his Bachelor of Arts degree in Politics and Literature from Vanderbilt University. He was a Fulbright Fellow in Japan. Growing up in a military family, he volunteered to join the Army during the Vietnam War. His service in Vietnam earned him the Bronze Star. He was born in Colombia and came to the United States as an immigrant child.
Recent Posts by Edward Schumacher-Matos
In this video, Kica Matos and Edward Schumacher–Matos have a conversation about the politics and economics of immigration reform.