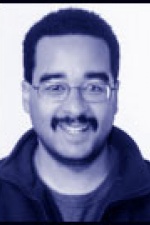 "If you learn to shoot with your heart, you'll move peoples souls." That phrase of inspiration, said to him in 1993 by one of his mentors at the Detroit Free Press is something photojournalist, Eric Seals thinks about on a daily basis when making pictures. Born in Detroit into a news junkie family in 1969, Seals knew in 10th grade that he wanted to be a photojournalist. Seals grew up reading the Detroit News and the Detroit Free Press and became more interested in looking at the pictures in the Detroit Free Press because the photographers seemed to make something out of nothing assignments and took more chances.
Seals graduated from the University of Missouri-School of Journalism after doing an internship at the Ft. Lauderdale Sun-Sentinel in 1992 and the Louisville Courier-Journal in 1993. In that same year he did a one-year internship at the Detroit Free Press before heading for an internship and job opportunity at The State Newspaper in Columbia, SC. In 1995 Seals won the South Carolina Photographer of the Year and in 1999 joined the staff of the Detroit Free Press.
Seals covered the Presidential campaigns of both Bill Clinton and George W Bush; the Northridge, California earthquake in 1993; wildfires in Florida in 1997; several hurricanes in North and South Carolina; the historical entrance of the first woman into The Citadel in 1997; the ongoing violence in Israel/Palestine in 2000 and 2002 and the recent the war on Iraq.
Seals recently won the 2004 Michigan Press Photographers Association Barry Edmonds Understanding Award and the 2005 Dart Award for Excellence in Reporting on Victims of Violence for a 6-part series in the Detroit Free Press called "Homicide in Detroit: Echoes of Violence." He has been a member of the faculty at Truth with a Camera Workshop in Portsmouth, VA. Taught at the 2003 Visual Edge workshop at the Poynter Institute in St. Petersburg, FL and at the West Virginia University School of Journalism. Seals loves to mentor others who are interested in this great profession.
He is married to Rhonda Seals has an adorable 5-year-old son named Ayrton and 9-month-old girl named Anna.
Recent Posts by Eric Seals
A six-part series that takes a deep look at the impact of homicide on family, police, bystanders and the city itself. Originally published in the Detroit Free Press (Detroit, MI), in 2004.