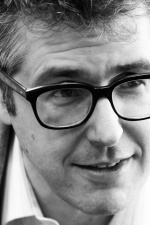 Ira Glass started working in public radio in 1978, when he was 19, as an intern at NPR's headquarters in DC. Over the next 17 years, he worked on nearly every NPR news show and did nearly every production job they had: tape-cutter, desk assistant, newscast writer, editor, producer, reporter, and substitute host. He spent a year in a high school for NPR, and a year in an elementary school, filing stories for All Things Considered. He moved to Chicago in 1989 and put This American Life on the air in 1995. He is the show's host and executive producer.
Recent Posts by Ira Glass
This stark two-part radio series follows students, school staff and families as they confront and cope with the deeply disruptive impact of gun violence on their everyday lives. The series offers revelatory insights into gang geography, youth culture, the corrosive impact of trauma and the overwhelming limitations to stemming the tide of violence. Judges called "Harper High School" "profoundly moving" and "extraordinarily comprehensive and compassionate" in its complexity. Originally broadcasted on NPR in February 2013.