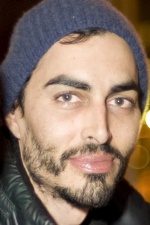 Jehad Nga is a freelance photographer with a client list that incudes Human Rights Watch, The Los Angeles Times, The New York Times, TIME and Vanity Fair, among others.
Jehad Nga was born in Smith center, Kansas in 1976 and raised in Tripoli, Libya and London, England. While studying literature in Los Angeles in 2001 Jehad's interest in photography began and would lead him to cover social issues in The Middle East and South East Asia.
In 2002 Jehad returned to New York to become an Emergency Medical Technician while interning at Magnum Photos in New York City. In 2003 Jehad traveled to Iraq on behalf of The New York Times to document the US-lead invasion and the fall of the same year continued to Liberia to cover the country's civil war.
In 2006 Jehad was added to the list of represented photographers by the M+B Photo Gallery in Los Angeles and Bonni Benrubi Gallery in New York. His work was also admitted into The Boston Museum of Modern Art's permanent photo collection in 2008. Since then Jehad has worked closely with both galleries and exhibited in Los Angeles, New York, London and Paris.
Jehad lives between Africa and Europe.
Recent Posts by Jehad Nga
This extraordinary report offers an intimate portrait of the effects of torture, trauma and survivor guilt on both victims and perpetrators in post-war Libya. Judges called it "uniquely balanced" and "sophisticated" in examining the "ambiguity between victors and victims" in the chaos of war. Originally published in the New York Times Magazine in May, 2012.