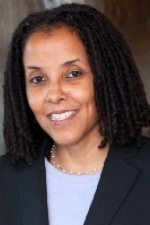 Kica Matos is Director of Immigrant Rights and Racial Justice at the Center for Community Change in Washington DC. Prior to joining CCC, she was Programme Executive and Head of the U.S. Reconciliation & Human Rights Programme at The Atlantic Philanthropies. Matos has extensive experience as an advocate, community organizer and lawyer in the civil and human rights fields. Formerly she was Deputy Mayor and Administrator of Community Services for the City of New Haven Connecticut, where she oversaw all of the city's community programs and services and launched a number of programs and initiatives that included prisoner re-entry, youth and immigration integration.
Matos was previously the Executive Director of JUNTA for Progressive Action, New Haven's oldest Latino community-based organization, located in a low-income neighborhood with a large immigrant community. She also has extensive experience in criminal justice in the United States and has worked as a federal defender for death sentenced inmates and with the NAACP Legal Defense and Educational Fund and Amnesty International on death penalty and criminal justice issues.
Recent Posts by Kica Matos
In this video, Kica Matos and Edward Schumacher–Matos have a conversation about the politics and economics of immigration reform.