Kimina Lyall
Director and Company Secretary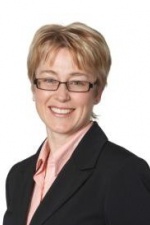 Kimina Lyall is currently the Group Executive for Corporate Development at Australian Unity, a company with business operations in healthcare, financial services, aged care and retirement living. Before joining Australian Unity, Kimina spent almost 15 years as a journalist, including a period as Southeast Asia correspondent for The Australian.
Her experiences during that posting led to a Walkley award nomination, along with the publication of her first book, Out of the Blue - Facing the Tsunami. Along with her work with the Dart Centre, Kimina is a board member of Great Connections, an organisation which aims to connect retired volunteers with high-level management skills with the not-for-profit sector.
 
Prior to her study and work as a journalist Kimina spent time in the community sector including working in youth housing and on policy issues concerning young women and care and protection issues. Kimina has also been involved in volunteering at several community radio stations in Melbourne.
Recent Posts by Kimina Lyall
Nine years ago, soon after I joined The Australian, I was sent to Port Arthur to cover the massacre of 35 people by gunman Martin Bryant.