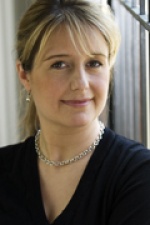 Laura Sullivan has been on NPR's national desk since December of 2004. During her tenure, she has covered crime and punishment issues for "Morning Edition," "All Things Considered," "Day to Day" and other NPR programs. Sullivan's 2006 news series "Life in Solitary Confinement," which examined the state of solitary confinement in U.S. prisons, received two honors: the 2006 Gracie Award for "Outstanding News Series" and the 2007 Daniel Schorr Journalism Prize.
Before coming to NPR, Sullivan was the Washington correspondent for The Baltimore Sun, where she covered the Justice Department, the FBI, and terrorism. In 1996, Sullivan and two other Northwestern University students completed a project that freed four men, including two death-row inmates, who had been wrongfully convicted of an 18-year-old murder on the south side of Chicago. The case led to a review of Illinois' death row and a moratorium on capital punishment in the state. The project won a special citation from Investigative Reporters and Editors and numerous other awards.
Recent Posts by Laura Sullivan
This three-part investigation found nearly 700 Native American children in South Dakota are removed from their homes every year, sometimes under questionable circumstances. Originally broadcast on National Public Radio in October, 2011.

One in three Native American women will be raped in her lifetime. This two-part series tells the story behind this shocking statistic — a story of both human tragedy and  systematic failure of criminal justice on and off of reservations.  This series led to the reopening of a sexual assault case, Congressional hearings, and the launching of a website to manage donations to help sexual assault victims living in the Standing Rock Sioux Reservation. Originally aired on NPR on July 25 and 26, 2007.