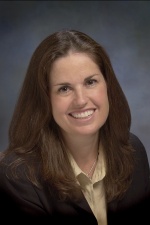 Los Angeles Times Director of Photography/Video Mary Cooney is responsible for video, multimedia, in-depth projects and the national and foreign report
Cooney is also focused on creating more documentary, breaking news and newsroom video programming as she helps to rethink and expand content and viewer engagement.
Cooney has been a vital part of the visual department's success since coming to the Los Angeles Times in 1997. In the last 10 years, five Times photojournalists have won Pulitzer Prizes and the department has had 15 Pulitzer finalists. The Pictures of the Year International competition has awarded The Times the Angus McDougall Award for the best photo-edited news organization a record six times.
Editor on the Pulitzer Prize and Emmy award-winning documentary project "Caught in the Crossfire," Cooney has also been recognized for her individual editing work by the National Press Photographers Assn, the Society for News Design, the Sydney Hillman Awards and the Pictures of the Year International. This past year POYi judged her editing portfolio the best in the country.
Cooney started on the East Coast in Rockville Centre, N.Y., and then Connecticut before moving to California. She was Director of Photography at the Stamford Advocate before joining the Los Angeles Times, and she has been with the Times Mirror/Tribune Co. for the last 25 years.
Recent Posts by Mary Cooney
This powerful and poignant multimedia series tells the story of Davien Graham, who was 16-years old when he was shot by a Latino gang member for being black. With dignity, insight and compassion, the series documents Davien's life over the course of five years – from his hospital bed to his new life as a paraplegic, through the trial and conviction of his shooter and beyond. Judges called "Standing Up" a "tour de force," "resonating at the highest level of journalistic excellence." Originally published in the Los Angeles Times in November, 2012.