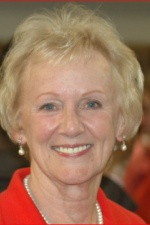 Patricia Llodra is the First Selectwoman of Newtown, Connecticut where she has been an educator and community leader for over 30 years. 
In her capacity as First Selectwoman, Llodra serves as Chair of both the Education Subcommittee and of the Communications Subcommittee, and as a member of the Ordinance and Municipal Facilities Committees. Since moving to Newtown in 1970, Llodra has been involved in local issues through membership in the Sandy Hook PTA, the PTA Council, the St. Rose Parish Council, the League of Women Voters, and the Republican Town Committee and six terms on the Board of Education.
Llodra has been a National Science Foundation Fellow, PIMMS Fellow, Leader-in-Residence with the State Department of Education, an elected member to the Connecticut Academy of Educational Leaders and named Connecticut's Principal of the Year in 2001.