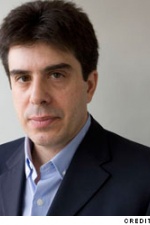 An award-winning foreign correspondent and investigative reporter for Propublica, Sebastian worked for almost 23 years for the Los Angeles Times, covering everything from terrorism to arts to the Mexican border.
He served most recently as a national security correspondent in Washington, D.C., and his previous posts include international investigative correspondent and bureau chief in Paris and Buenos Aires, with assignments in the Middle East and North Africa.
In 2006, he was named a Pulitzer finalist for international reporting for his coverage of terrorism and Muslim communities in Europe. He won the German Marshall Fund's senior award for excellence in European reporting the same year. He was part of a team whose coverage of al-Qaida received an award from the Overseas Press Club and finalist honors for Harvard University's Goldsmith Prize for Investigative Reporting in 2002. In 2001, he won Columbia University's Maria Moors Cabot Prize for his career coverage of Latin America. His work in Latin America also won honors from the Overseas Press Club, the Inter-American Press Association and the American Society of Newspaper Editors. He is the author of two books: Twilight on the Line: Underworlds and Politics at the U.S.-Mexico Border, which was named a New York Times Notable Book in 1998; and the new novel, Triple Crossing, published by Little, Brown/Mulholland Books in August, 2011. He speaks Spanish, French and Italian. He is a graduate of the University of Michigan and was born in Chicago.
Recent Posts by Sebastian Rotella
This American Life, ProPublica and Fundación MEPI collaborated to produce a stunning and powerful story in multiple formats that uncovers a 1982 massacre of a village in Guatemala. There were only two known survivors. Thirty years later, Oscar Ramirez, living in Boston, got a call from a woman who told him he was one of them. "Finding Oscar" and "What Happened at Dos Erres" were both originally published in May, 2012.