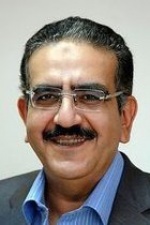 Yehia Ghanem is the international journalist in residence at CUNY Graduate School of Journalism. An Egyptian journalist and writer for more than 30 years, Ghanem has been a foreign correspondent and an editor for Al-Ahram International newspaper, and is currently living in exile in New York following a sham trial that convicted several dozen Egyptians with connections to international NGO's. His wife and three children remain in Egypt. Ghanem is also the supervisor of Arab Reporters for Investigative Journalism Network (ARIJ) in Cairo, Egypt. He worked as the Bureau Chief for Al-Ahram newspaper in Southern Africa, and has won numerous awards for his work covering wars around the globe including 1995 Man of the Year from the Egyptian Doctors Syndicate for coverage of the war in Bosnia from 1992-1995, and Best Foreign Investigative Reporting on the war in the Democratic Republic of Congo from the South African Association of Foreign Correspondents in 2002. Ghanem has published four books based on his experience in covering war zones: "I was there: Journal of Military Correspondent in Bosnia," "What is Going On in Asia?: Impacts of Pakistan & India Nuclear Testing on Strategic Balance," "Media Disinformation: Applied Study on Iraq, Libya," and "Egypt and Bosnia and the True Account of Arab-Israeli Arms Reduction Negotiations." He has participated as a panelist in numerous national and international seminars, workshops and conference. Ghanem is also a senior mentor and trainer on investigative journalism in Egypt and the Middle East.
Recent Posts by Yehia Ghanem
Yehia Ghanem, one of Egypt's most respected journalists, is living in exile in New York, separated from his family and uncertain of his future. If he returns to Egypt, he faces two years of hard labor in prison after a sham trial that convicted several dozen Egyptians with connections to international NGO's of illegally taking money from foreigners. A Dart Center exclusive.