BBC Develops Peer Support Network
October 30, 2015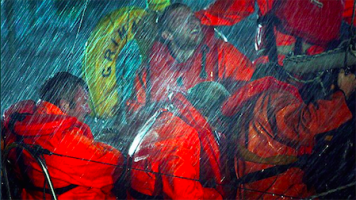 For Brenda Griffiths, BBC Arabic's former deputy editor, Newsgathering, the decision to join the BBC's new trauma support network sprang from her experiences of covering the bloody 1994 Rwandan crisis: "When I came back I undoubtedly had post-traumatic stress disorder, but it wasn't really recognised.
"I'd seen lot of dead and mutilated bodies. My son was three years old and I was worried because I was short-tempered, crying a lot, not sleeping. Clearly something was wrong."
Brenda sought professional help - although she recalls that it wasn't easy to get back then - and recovered.
As line manager for a number of BBC Arabic bureaux in conflict areas, she dealt with colleagues who have had extreme experiences including - like the BBC Arabic journalists captured in Libya in 2011 - threatened torture and mock executions.
"The world is more dangerous than ever and journalists are targets in a way they weren't before.
"Just as you take a flak jacket and helmet into hostile environments, people should know there are protections in place to help them come to terms with psychological injuries. I wanted to have the skills to offer more than just kind words."
Peer support network
Brenda was one of a growing number of senior BBC journalists who have taken a two-day advanced course in trauma risk management. Presenter Sian Williams is another: "Reporting on distressing events somehow distances you from them, but the images you see are indelibly imprinted on your mind."
"I got involved in trauma support after recognising my own reluctance to seek help. Had I done so, I think the processing of the event would have been so much better"
Sian covered the Hillsborough disaster and the Asian Tsunami, but it was the 2005 Pakistan earthquake that had the most lasting effect. "I had nightmares after Pakistan and was unable to talk about what I was feeling for months. Then my mother died and that brought back all those other experiences.
The training - based on methods developed by the Royal Marines in the 1990s - was adapted for the BBC by specialist psychiatrist Professor Neil Greenberg. It is not about counselling or even stress debriefing. Instead, it aims to take a common sense approach to peer support, to identify actual or potential risk of psychological problems and assess whether those can be managed at work or require professional help.
Trainees use a 10-point checklist to identify symptoms of acute stress, including problems like sleeplessness, difficulty concentrating and unwillingly reliving the traumatic event.
There is also advice on couching questions in such a way as to encourage honest answers. For instance, instead of asking the person if they're short-tempered, you could say: 'It's not unusual in these circumstances to feel irritable with those around you - is that happening to you?'
Culture change
Sarah Ward-Lilley, the BBC's head of international bureaux management, has sensed some shift in the traditionally 'macho' newsroom culture where both men and women have been reluctant to admit to problems that might be perceived as career-blighting weakness. Newsgathering is now being more proactive, she says, about ringing people when they're back from difficult situations, as well as thinking ahead. And that doesn't just go for people deployed to war zones.
"Discussions were held in advance about how to support news teams covering stories like the lengthy and harrowing 'witchcraft trial' in March 2012 and the 7/7 inquests in 2011.
"We need to be able to help people on the frontlines but also colleagues working in dark edit suites, perhaps struggling to cope because they feel isolated."
And, as local and regional journalists are likely to come across distressing court cases, tragic house fires, fatal traffic accidents and the like early in their career, the next step will be to raise awareness of trauma management among some of the BBC's newest recruits, she says.
Not just the frontline
For newsroom teams like those which monitor incoming material from international news agencies and the public, the 'drip drip' effect of viewing unedited and sometimes distressing footage over hours can take its toll. "That's when you need to keep an eye on people - make sure they don't have consecutive days of looking at this kind of material, and change shifts if necessary,' says Simon Ward, assigment editor, news intake at BBC News.
Simon cites the sustained bombing campaign in Gaza in 2008/9 as a particularly difficult experience.
Over an 18-month period, the Arab Spring led to an unending stream of amateur footage reaching the BBC's UGC (user generated content) Hub at Television Centre. The uprising in Syria has proved a particularly relentless source of disturbing and often shocking video frequently sent by activists keen to get their message across.
BBC News' advice on countering the cumulative effect of viewing distressing material includes pausing or stopping pre-recorded clips, blocking out audio, and recording live footage so journalists can leave the feed on record and walk away.
The guidance for managers is to know their teams well enough to spot behavioural change, create opportunities for people to talk, but to remember they're not counsellors - rather: listen, support and refer.
Advice
More generally, BBC News sets out five steps that colleagues, managers, friends and family can take to support people who may be suffering trauma:
Ask how the person is and make sure you have enough time to spend with them
Let the person talk - and listen
Offer practical help; sort out everyday tasks
Don't tell him or her that you know how they feel
Don't take it personally if they're behaving out of character.
This piece was first published by the BBC Academy.