New PTSD Guide for First Responders
November 1, 2015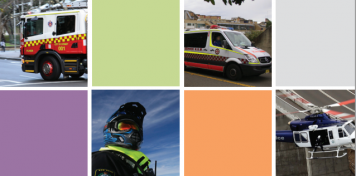 A group of Australian physicians have created national guidelines to better diagnose and treat post traumatic stress disorder in paramedics, police officers and firefighters.
The research team of nine experts, led by Dr. Sam Harvey, a psychiatrist from the Black Dog Institute and the University of New South Wales, created what they are calling the "world's first" clinical PTSD guide aimed at first responders.
"We know that about 10 percent of current emergency service workers have PTSD, and we suspect the rate is even higher if you consider retired emergency service workers," said Dr. Harvey about the 80,000 full-time emergency workers in Australia.
"PTSD is different among emergency workers in the way that it presents," he added. "And often the treatment needs to be different."
The 68-page guide, which has been independently reviewed and endorsed by the Royal Australian and New Zealand College of Psychiatrists, outlines an array of psychological and pharmacological treatment options for first responders including the use of antidepressant medication, trauma-focused cognitive behavioral therapy (CBT) and eye movement desensitisation and reprocessing (EMDR).
According to Harvey, the main obstacle to treatment for emergency workers is still an unwillingness to seek help due to the stigma associated with mental illness.
Click here to read and download "Expert guidelines: Diagnosis and treatment of post-traumatic stress disorder in emergency service workers."