Boston Globe Spotlight Team Talks Shop: Investigating Sexual Abuse
April 10, 2016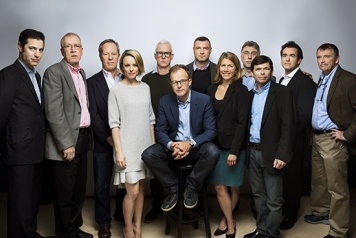 "Can I use the word ballsy?" Robinson asked in front of an audience of more than 400 people at Columbia Journalism School. "For a new editor to walk in and call in the head of the Spotlight team and say I'd like you to go investigate the Catholic Church. It takes guts."
Earlier this month, the Dart Center co-sponsored a screening of the Academy Award-winning film "Spotlight," followed by a conversation with two of the journalists portrayed in the film, editor Walter "Robby" Robinson (played by Michael Keaton) and reporter Sacha Pfeiffer (played by Rachel McAdams). For those who missed the event, the latest "On Assignment Podcast," produced by The Alfred I. duPont-Columbia Awards, features the conversation between Robinson, Pfeiffer and Columbia Journalism School Professor Betsy West. 
Click below to listen to the full podcast:


"Spotlight" is a true-to-life, riveting testament to heroic and tenacious reporting, bound to inspire any journalism student. When the Boston Globe's "Spotlight" team of reporters delves into allegations of abuse in the Catholic Church, their year-long investigation uncovers a decades-long cover-up at the highest levels of Boston's religious, legal, and government establishment, touching off a wave of revelations around the world. 
The event was sponsored by The Dart Center for Journalism & Trauma, The Alfred I. duPont-Columbia Awards, The Columbia Journalism School Documentary Program and the Sevellon Brown Fund.