Swedish Media Companies Sign Joint Declaration to Protect Journalists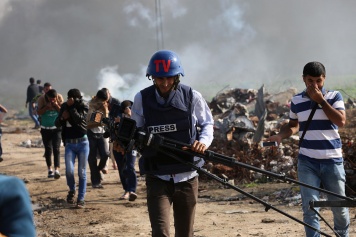 A cohort of major Swedish media companies have formally agreed on a common approach to safety training for journalists working in high-risk areas, and have committed to taking the same responsibility for freelancers as for salaried employees.
The unique collaboration, between Dagens Nyheter (DN), Swedish Television (SVT), Swedish Radio (SR), Svenska Dagbladet, Expressen, Aftonbladet, Dagens industri and TV4, began after Dagens Nyheter photographer, Paul Hansen, was shot and injured in Mosul in 2016. 
"Normally, we compete with Aftonbladet, Svenska Dagbladet and other media companies, but there is no competition when it comes to the safety of our journalists," said DN's Editor in-Chief Peter Wolodarski in a statement. "The world has become more dangerous at the same time it's more important than ever that we as journalists are on the ground. That's why this initiative is so important – we never compromise the safety of our journalists out on assignment."
The multi-organization agreement comes at an important time, as coalitions like the ACOS Alliance work to embed safety and protection standards for freelancers in newsrooms worldwide.
The Swedish companies agreed on the following requirements for journalists traveling to high-risk areas:
Each trip to a high-risk area is preceded by a transparent risk analysis
It is the responsibility of each company to carry out the risk analysis in the way they consider best
Every employee who is sent to a high-risk area must have undergone a qualified safety course, including medical first-aid training
It is the responsibility of each company to ensure that all employees sent to high-risk areas have the relevant training
Every employee sent to a high-risk area must carry relevant and updated field emergency medical equipment and appropriate protective equipment - It is the responsibility of each company to ensure that all travelers have the relevant equipment
It is the responsibility of every employee sent to a high-risk area to comply with the prearrangements made with management. This includes the use of social media, including personal accounts
Every employee sent to a high-risk area should keep in touch with the newsroom as agreed upon ahead of travel.
It is the responsibility of each company to ensure that there is a functioning organization in place with the capacity to communicate with employees in high-risk areas
In case of serious and life-threatening incidents, such as kidnapping or personal injury, a representative for the media company's upper management may take over responsibility from the newsroom
In cases where companies send contracted freelance journalists or photographers to high-risk destinations, the media companies shall take the same responsibility for them, and have the same demands for them, as for full time employees