Attacks on Women Journalists the Focus of UN Panel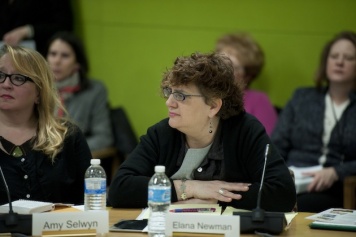 In February 2011, the world was stunned by the news that CBS war correspondent Lara Logan was brutally attacked in Cairo's Tahrir Square while covering the Egyptian revolution. But, as Logan discussed later in an interview with "60 Minutes," her harrowing experience may not be so uncommon: What she called a "code of silence" exists surrounding sexual assault on female journalists, something she said "all of us have experienced and never talk about." 


Just as scrutiny is coming to bear on the issue of sexual assault on women in the military, Logan's rape, and her willingness to speak about it on a national stage, has brought the safety of women journalists into the spotlight and promoted dozens of women journalists to come forward. In the spring of 2012, the International News Safety Institute (INSI) published, "No Woman's Land," which recounts the traumatic experiences of more than thirty female journalists. 

On March 6th, the United Nations held a panel on the issue as part of the 57th session of the Commission on the Status of Women. The Dart Center's Research Director Elana Newman was among the featured speakers. "We must set an agenda where violence against women, violence against journalists, is unacceptable," said Newman. 


Journalists around the world, a majority of whom are men, are being harassed and killed in greater numbers than ever. But women are undergoing what Irina Bokova, the Director-General of UNESCO, described as a "double attack," as they are targeted both as women and as journalists. 


Journalists are targeted in three specific ways, explained Lauren Wolfe, Director of the Women Under Siege Project. "Intentional targeting, often in retaliation for their work; mob-related violence in public places; and sexual abuse in captivity." Of assaults that take place, men report being physically assaulted; sexual assault is usually perpetrated against women.
But those who experience such attacks rarely report them, explained Wolfe, citing professional and cultural stigma as discouraging factors. In many countries, if a woman talks about being raped, she risks being kicked out of her home or otherwise left by her husband, getting fired from her job or barred from future assignments, or even being beaten by the same police to whom she is expected to report her abuse.


Over the last year, several incidents of horrific violence against women have generated international condemnation, such as a recent gang rape in India and the attempted assassination of youth activist Malala Yousafzai in Pakistan. But clearly, in some countries where women don't have the same societal status as men, the dangers are even greater. "I've been told that my head will be cut off if I talk about anything that criticizes the Wahhabi," said a member of the audience who asked to remain anonymous.
The Dart Center provides a set of self-care guidelines for journalists, as well as tips for reporting on sexual violence, and the International News Safety Institute has a list of safety recommendations created from their report "Killing the Messenger." In terms of addressing the increasing concern about sexual violence against women journalists, Newman pointed out that some of it is a "societal issue. It's time to start talking about bystander intervention. "


In partnership with UNESCO, INSI is spearheading a study that will look at physical and emotional forms of violence against female journalists, and will also introduce several customized safety-training programs designed for women in Pakistan, Kenya and Somalia.


This session, "Safety of Women Journalists," included Lauren Wolfe, Director of the Women Under Siege Project, INSI's representative Amy Selwyn, Dart Center Research Director Elana Newman, CBS correspondent Pamela Falk, Costa Rican Ambassador Eduaro Ulibarri, Austrian Ambassador Martin Sajdik and UNESCO Director-General Irina Bokova. 

Watch the entire UNESCO discussion below: