Carlos Dada on the Border Crisis: A Hellish Path
July 21, 2014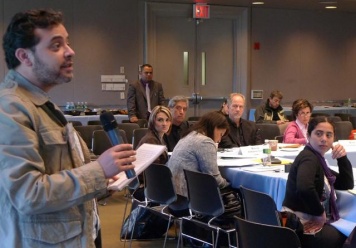 There has been a sharp increase in coverage of the humanitarian crisis on the United States-Mexico border over the last several weeks. Since October, more than 52,000 unaccompanied minors have been apprehended by US Customs and Border Protection, a number which could balloon to 90,000 before the end of the year.
On WNYC's "On the Media," Carlos Dada, founder and editor of the El Salvadoran newspaper El Faro, spoke with host Bob Garfield about the crisis and what the US media is missing:
"Children are not going to the United States because they think the United States has, what you call, 'heart-bleeding policies,'" explained Dada. "They are running away from a place because they don't think that they can keep on living under the circumstances in which they are living." He continued, "They still have to go through this hellish path which is Mexico, which is not a joke, which very few people survive."
Five years ago, Dada and his team at El Faro established a special unit to live in Mexico City to document the plight of those journeying north. They found that among women traveling alone, 80% had been raped or sexually harassed before even arriving in Mexico. Many others had been robbed, kidnapped or killed, often in attempts to travel via a network of freight trains referred to as La Bestia, or El Tren de la Muerte.
Carlos Dada spoke at the 2009 Dart Center workshop "Covering Trauma in Latin America." Click here for workshop audio, and click here for a host of resources to help journalists covering the border crisis.