Dart, Digital First Media Collaborate on Peer Support Program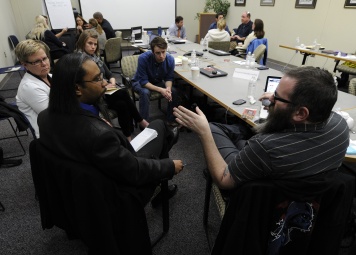 About a year ago, the Dart Center partnered with Digital First Media and set something in motion: An effort at a company-wide peer-support program for journalists who cover stories of trauma and conflict.
Last week, the York (Pa.) Daily Record/Sunday News and DFM unveiled peer-support guidelines and formally began building the program.
Fifteen journalists from 11 Pennsylvania news organizations spent March 12 at the YDR, learning about trauma, resilience and peer-support from a distinguished group: Elana Newman, the Dart Center's research director; Kathy Jansen, psychologist with Wellspan and leader of the York County (Pa.) Critical Incident Stress Management team; Lt. Marc Junkerman of the Harford County (Md.) Sheriff's Office and a CISM coordinator; Lisa Millar, North American correspondent for the Australian Broadcasting Company, a pioneer with its peer-support program; and Kate Black, associate director of the Dart Center.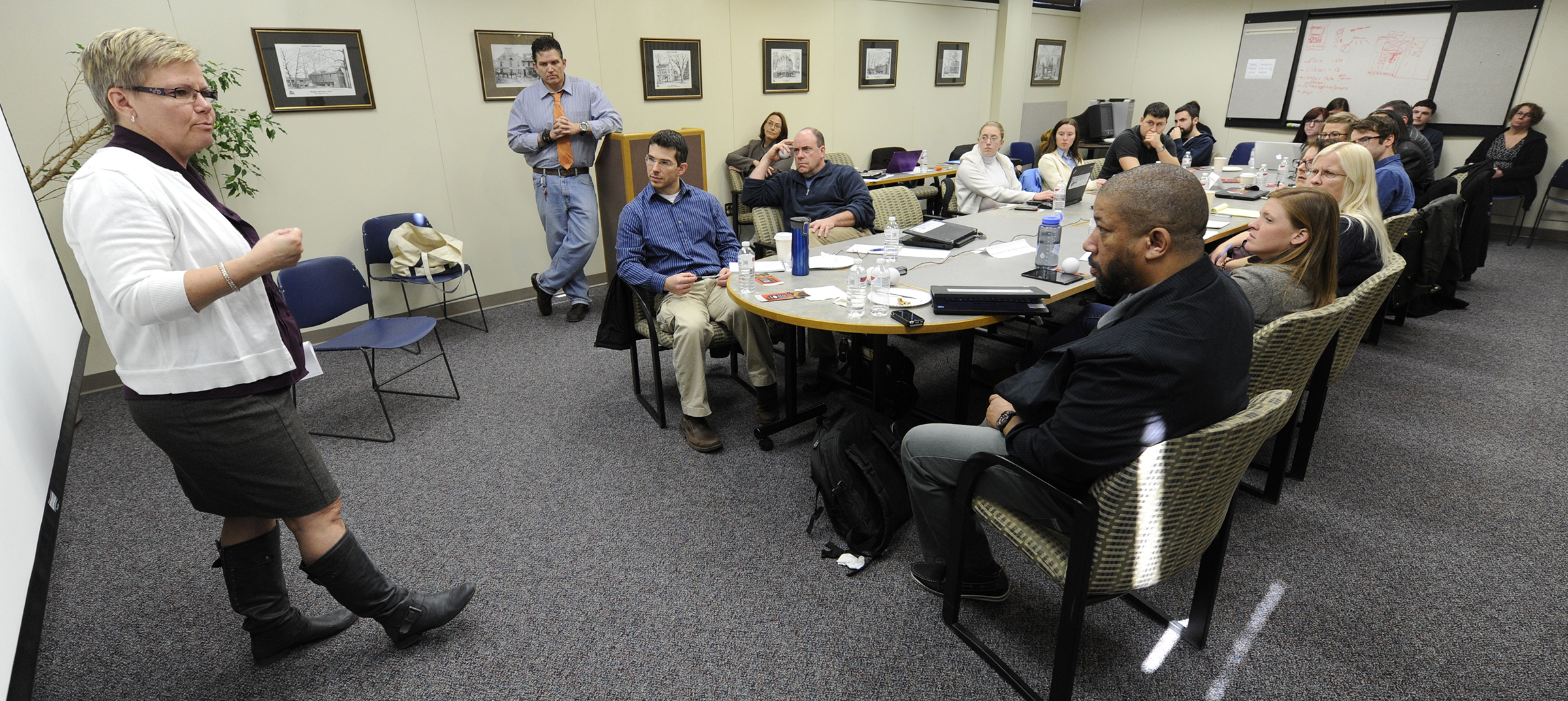 Jason Plotkin / York Daily Record: Kathy Jansen, left, a psychologist and trauma specialist with WellSpan, and Lt. Marc Junkerman (orange tie) of the Harford (Md.) County Sheriff's Office, talked about trauma and peer-support to a group of Digital First Media journalists on Thursday.
The DFM journalists are pioneers, too. DFM is the first U.S.-based news organization to begin developing a peer-support program. The Dart Center has provided support and guidance in a partnership that began in May 2014, when about 20 DFM staffers spent a day and a half of training with the center's executive director, Bruce Shapiro.
He laid the groundwork for what would become the peer-support program introduced on Thursday. The focus: Understand trauma on a deeper, cultural level to become stronger at covering trauma survivors; and develop resilience and peer-support skills to help colleagues that are distressed by what they cover.
"For the reporters, photographers, editors and other newsroom staff of Digital First Media, covering trauma is a professional skill," Shapiro wrote in the introduction to DFM's guidelines. "But covering traumatic events also can challenge a news professional's personal resilience. Research shows that some journalists exposed to such events may be vulnerable to a range of post-trauma responses, including but not limited to post traumatic stress disorder; and at the same time, that individual journalists and news teams alike can effectively strengthen their capacity to cover traumatic events, through education, peer support and management training, making it possible to cope effectively with the emotional toll wrought by these assignments."
A peer-support program is helpful, Newman said, because journalists don't often seek help even if they're distressed by a story -- and because journalists can see employer-provided mental health care as an arm of management. A peer supporter isn't a counselor, but can provide a touchstone for someone who is distressed -- a way regain equilibrium, stay healthy and be able to do their best work.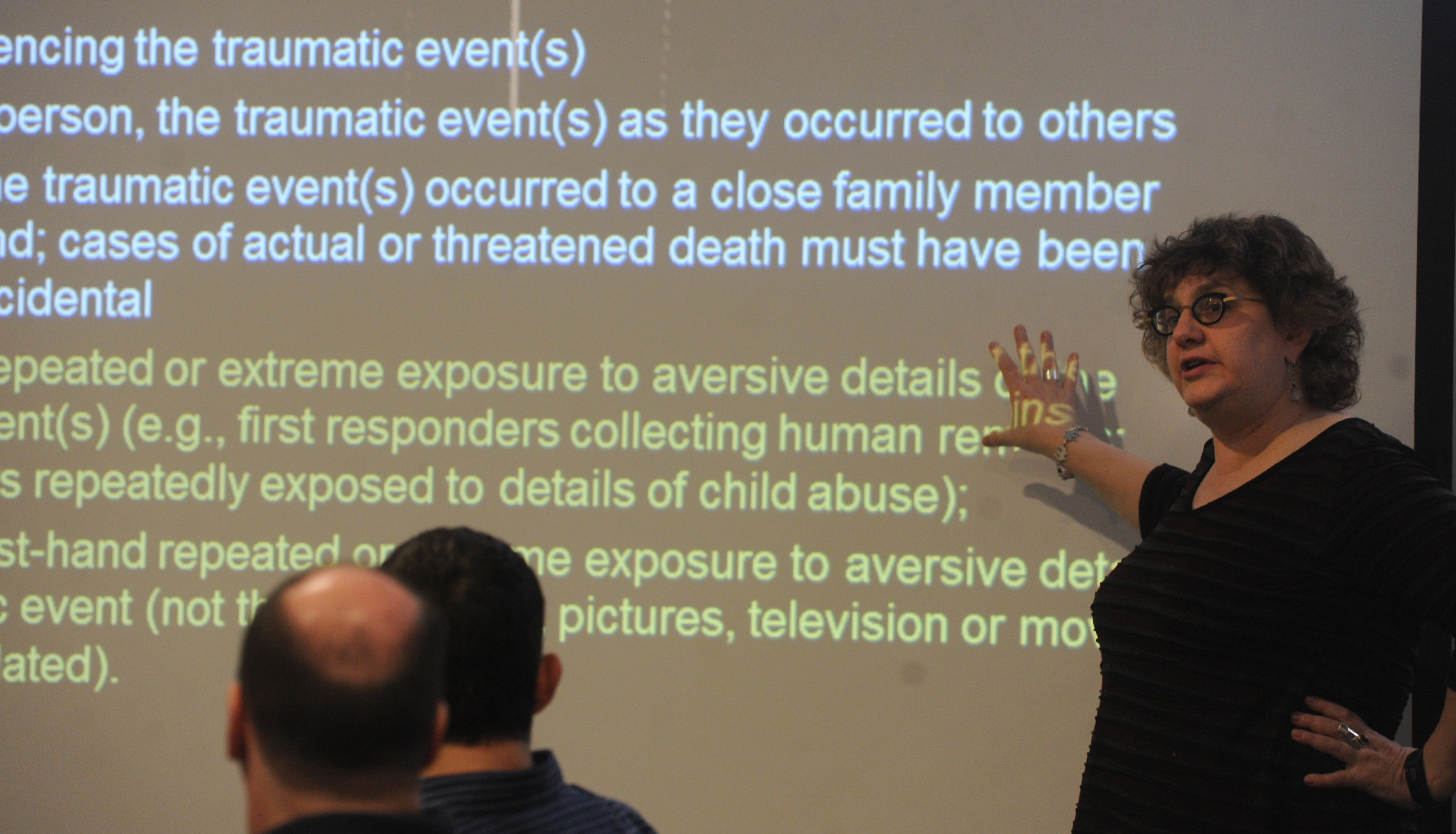 Jason Plotkin / York Daily Record: Elana Newman, research director of the Dart Center , talks about how trauma can affect journalists.
"Peer support works because we are cultural beings," Jansen said. 
Having someone who understands the language and the tradition makes it easier, she said. Or, as Junkerman put it:
"You of all people understand: You are not a press credential that wears a person. You are people who do a difficult job. When there's nobody else who understands, you understand."
A peer-support check-in could be, Millar said, as simple as a text message to a reporter who's on a difficult assignment. It could also be a more formal sit-down conversation.

Jason Plotkin / York Daily Record: Lisa Millar of the Australian Broadcasting Company helps DFM peer-supporters learn how to navigate a one-on-one conversation with a colleague who is distressed by a story.
She stressed that peer-support, at the ABC, is a matter of getting "into the mindset of being alert" and that one goal of a peer-supporter is to "let people know that it's normal to be distressed."
A peer-supporter, Jansen said, can help a colleague rediscover the ways he or she can best cope with that distress.
Soon, DFM will be kicking off the peer-support program in its northeast properties that include newsrooms in Connecticut and Massachusetts. 
The group at the YDR talked a lot about how to raise peer-support and trauma journalism awareness in their newsrooms, so a peer-support check-in or conversation wouldn't come out of the blue, but would be part of a newsroom's culture.
Some ideas, which any newsroom can adopt:
Create a new-staffer orientation session in trauma journalism and peer support. Then expand that orientation to veterans in the newsroom.
Gather staff occasionally to debrief about coverage of a fatal accident, murder or other significant event. Talk about what worked in the coverage and what didn't; discuss best practices for trauma journalism coverage.
Find local people who do peer support -- perhaps for other first responders, as with the York County team at the YDR -- and bring them into your newsroom to create a working relationship on trauma and peer-support.
When a big story breaks, take a breath and communicate to staff reminders of best practices for trauma journalism -- from interviewing to reporting to visual journalism -- and note and talk about any special circumstances the breaking news presents.
Turn to the Dart Center's resources for refreshers when you're not in the middle of crisis; and when you are. 
Watch the ABC's peer-support video. It's a great primer on what peer support is and can do.
Gather staff to watch and discuss the video "Ethical Reporting on Traumatised People," produced by the Australian Broadcasting Corporation and Dart Centre Asia Pacific. It comes with a teaching guide.