"Don't Hide Behind Political Correctness": Aluf Benn Visits Dart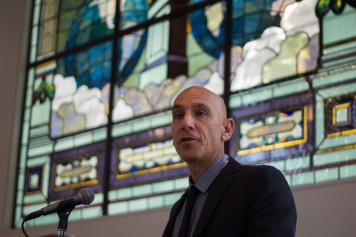 "Wartime is the most important time to be critical – the most crucial time for public debate," said Aluf Benn, who has reported on Israeli-Arab war and peace efforts since the Oslo Accords in 1993. "When you see trouble, don't hide behind political correctness."
Last week, Benn, editor-in-chief of Haaretz newspaper, joined the Dart Center's Bruce Shapiro at Columbia Journalism School for a lunchtime conversation centering on his paper's place within the Israeli journalistic landscape, and its efforts to cover this summer's Gaza war.
"These 50 days, they were definitely the most challenging and interesting period for me in my career as an editor," said Benn, who joined Israel's oldest paper in 1989, and has written mostly about the country's leadership, foreign policy, and national security since then.
To an audience largely made up of journalism students and young professionals, Benn spoke about some of the criticism that Haaretz received throughout the war for reporting on suffering on both sides of the conflict, and for staff editorials that some Israelis felt were too critical of the Netanyahu government.  
Benn also called attention to an analysis written by data scientist Gilad Lotan, who used public data to chart what people on both sides of the conflict were reading, and showed the ways social media was used to reinforce, or break down, pre-existing beliefs. According to the analysis, of all publications, "Haaretz accommodates the most connections on both the pro-Palestinian and pro-Israeli sides" and "has the most potential for bridging across biases and political barriers."
Benn also shared advice for journalists hoping to work in the Middle East.
Click here to listen to a full audio recording.