IFJ Publishes Report on Journalists and Media Staff Killed in 2013
February 18, 2014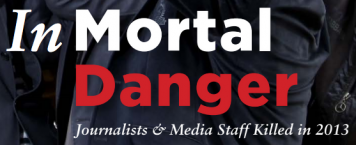 The International Federation of Journalists (IFJ) has published a full report on the number of journalists and media staff killed worlwide in 2013.
Available in English, French and Spanish, the 44-page report includes a detailed "Killed List," which provides information on the 105 journalists and media staff who "lost their lives in targeted attacks, bomb attacks and other cross fire incidents," as well as those who were killed in accidents. 
"The media death toll of 2013 confirms the abject failure of governments to hold accountable those who are responsible for violence against journalists, which has entrenched the culture of impunity for attacks on media professionals," the report states.
The report, titled "In Mortal Danger," features analysis of press freedom in the Africa, Asia-Pacific, Europe, Latin America, and the Middle East, while providing statistics on the deadliest regions for working journalists and media staff. It also devotes a section to special challenges faced by women in the field.
Click here to access the full report.