Newsrooms Face Challenge Amid Surge of Graphic Imagery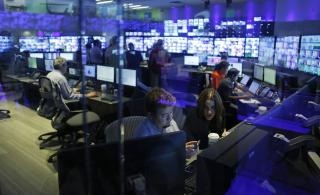 In an article for Poynter this week, Katie Hawkins-Gaar considers the mental health challenges faced by journalists tasked with watching and vetting graphic user-generated content. She also examines the responsiblities of the news organizations for whom they do it.
Dart Center Executive Director Bruce Shapiro is quoted extensively in the piece. He said the psychological impact of viewing disturbing footage is something that must be addressed by newsrooms, and explained that war correspondents are not the only journalists at high risk for PTSD.
"It's emerging as a newly significant issue," Shapiro told Poynter. "There's a flood of very graphic footage – the likes of which we've never seen before – coupled with the competition for clicks and eyeballs and increasing speed of journalism. Executives are concerned and confused about what to do."
Shapiro cited a 2014 study led by psychiatrist Anthony Feinstein, which found that frequent, repetitive viewing of violent news-related video and other media raises news professionals' vulnerability to a range of psychological injury, including anxiety, depression and post traumatic stress disorder.
"What's new is that the flood is constant," said Shapiro, who also said that the responsibility for identifying and responding to the effects of graphic content belongs to both individual journalists and news managers.
The piece also spotlights Storyful. According to the verification outlet's Global News Editor David Clinch, at any given time, a team of between 6 and 12 journalists is working to find, verify and obtain the rights to a wide variety of user-generated content.
"We usually have a pretty clear idea of what we're going to see. If it's a video where we think there might be something gruesome, one of our senior editors will look at that. We don't ask junior editors or new people to look at gruesome videos," Clinch told Poynter.
"These are precious journalists – trained people," he continued. "Why would we want them to get burnt out?"
Click here for the Dart Center's tip sheet on working with traumatic imagery.