Ochberg Fellows Conclude Week at Columbia
January 27, 2015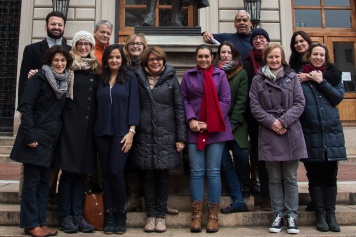 On January 22, the 2014-2015 Ochberg Fellows concluded an intense week of seminars and conversations on trauma science, journalism craft and ethics around covering violence, conflict and trauma. The fellows, representing eight countries and five continents, met with luminaries in the trauma field including Steven Southwick M.D., a professor of psychiatry at Yale Medical School and an expert on psychological and neurobiological effects of extreme psychological trauma, and Frank Ochberg, a founding board member of the International Society for Traumatic Stress Studies and Chairman Emeritus of the Dart Center, after whom the Fellowship is named. Other seminars were led by award-winning journalists, researchers and clinicians.
Fellows shared their experiences with the Fellowship faculty at the conclusion of the program, and we've included a selection here:
"I feel so deeply grateful – I feel like a new dimension has opened up to me – both as a person and a journalist. The week leaves me both energized about craft and advocating. I feel like I've been handed a gift that I will both treasure and pass on."
"Thank you for this remarkable and important experience. It will change the way I work and think. I feel honored to be part of the Ochberg family."
"A really intense but rewarding experience which has transformed my way of thinking about reporting trauma. I will be taking these lessons back to my own workplace."
"An absolutely fantastic week, and so very important for my work. I return home a changed person."