Ochberg Fellows at Columbia
February 24, 2014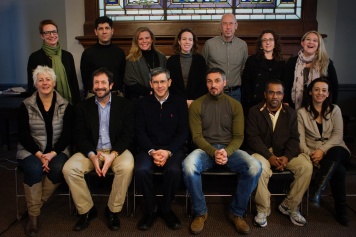 On January 25, the 2013-2014 Ochberg Fellows concluded a week of seminars and conversations on new developments in trauma science, and journalism craft and practice on issues of violence, conflict and trauma. The fellows, representing eight countries and five continents, met with luminaries in the trauma field including Steven Southwick M.D., Professor of Psychiatry at Yale Medical School, expert on psychological and neurobiological effects of extreme psychological trauma and author of Resilience and Jonathan Shay M.D. Ph.D., MacArthur Fellow and author of Odysseus in America and Achilles in Vietnam. Other seminars were led by award-winning journalists including documentary filmmaker and Columbia Journalism Professor June Cross; families of victims from Sandy Hook elementary, along with other researchers, thinkers and practitioners. 
Two fellows noted upon completing the program:
"I now have an even stronger motivation -- and stronger sense of responsibility  -- to do as much as I can to influence how we cover trauma survivors, and I have a family of Ochberg Fellows who will back me up and stand with me as I try."
"The brutality of my experience over the past 10 years had robbed me of the pleasure I took in the craft of photography and journalism. The fellowship has helped to restore that and made it feel new and fresh again."