Rory Peck Trust & CPJ Release Media Safety Guide for Syrian Journalists
August 5, 2015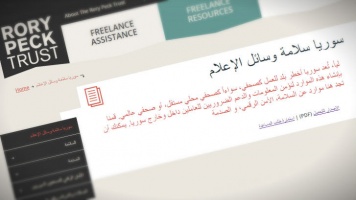 Today the Rory Peck Trust and the Committee to Protect Journalists (CPJ) released a new Arabic-language safety resource for Syrian journalists working in the country or on its borders.
The online resource is intended to encourage proactive safety measures: It provides tools for physical security, including risk assessment and proof-of-life templates, as well as digital security information, such as identity protection and encryption guides. Information for obtaining emergency support and trauma counseling services in the region is also available.
All tools are also translated into English, and can be downloaded as PDFs for those working in areas without reliable internet access. 
"Much of the news and images coming out of Syria are being provided by these journalists, many of whom are freelance and have little, if any, access to safety training or trauma support," said Sarah Giaziri, MENA Program Officer at the Rory Peck Trust. "We hope that this resource helps them to manage their safety and continue their vital work."
Syria was the most deadly country in the world for journalists in 2014 for the third consecutive year, according to CPJ. Since March 2011, when the conflict began, at least 84 journalists have been killed, more than 90 have been abducted and approximately 25 are currently missing, most of them local.
"The extreme risks have limited the number of journalists working in Syria, but news about the conflict is still essential to understanding the changing situation," said Maria Salazar-Ferro, Coordinator of CPJ's Journalists Assistance Program. "Safety information for those who continue to report from Syria is critical."
Click to access the Syria Media Safety Resource.