17 Killed in Paris Terror Attacks
January 7, 2015
Masked gunmen killed 12 people at the Paris offices of a French satirical newspaper on Wednesday. Two days later, police responded to hostage situations involving the two suspects and an alleged accomplice, killing all three. A fourth suspect remains at large. Below are tip sheets and other resources for journalists covering this evolving story.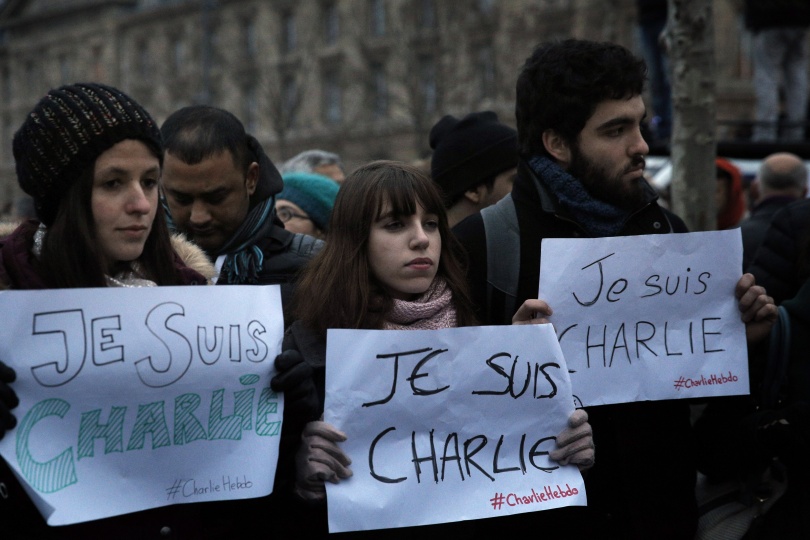 Masked gunmen burst into the Paris offices of a French satirical newspaper on Wednesday morning, killing 12 people, including at least eight journalists and two police officers, before fleeing by car. 
The attack on Charlie Hebdo, which has been under police protection since the newspaper was fire-bombed in 2011 after it published a caricature of the Prophet Muhammad, is the worst attack on the media since the 2009 Maguindanao massacre in the Philippines.
"Around the world, journalists working in their own countries are targeted and killed because of what they publish or broadcast," said Joel Simon, executive director of the Committee to Protect Journalists. "An attack of this nature in Paris shows that the threat to journalists and free expression is global, with no safe haven."
On Friday, police responded to a hostage situation involving the suspects, and a separate hostage-taking led by an alleged accomplice at a kosher supermarket. The police killed all three, and a fourth suspect remains at large.
Four of the hostages were killed. A police officer also was fatally shot.
The Dart Center has tips and resources below for journalists who are tasked with covering tragedy on this scale:
NEWSROOM TRAGEDY:
Le risque traumatique - prévenir et détecter les blessures psychiques: Le traumatisme psychologique peut toucher tous les journalistes qui évoluent en zone dangereuse et/ou qui rendent compte d'événements impliquant des populations affligées par des deuils, des violences ou des pertes graves.
When Tragedy Hits the Newsroom: Many journalists have experience covering stories of violent death, but what happens when those stories involve co-workers?
Breaking Bad News: This booklet is intended to offer informal guidance in circumstances where journalists, their editors or managers are required to tell next-of-kin of the death of a colleague.
COVERING MASS KILLINGS
Psychiatrist Frank Ochberg, M.D. and Bruce Shapiro, executive director of the Dart Center, share insights on covering mass killings in the aftermath of the Arizona shooting that left six dead and a U.S. Congresswoman grievously injured.
Reporter Dave Cullen's lessons from a decade of reporting on the Columbine attacks.
A self-study unit on covering terrorism by Elana Newman, Ph.D., research director of the Dart Center.
A compilation of journalist-to-journalist advice on covering mass murder.
Professor Meg Moritz shares four lessons on covering school shootings.
Quick tips on working with victims and survivors from Dart Centre Asia Pacific.
Resources for Covering Mass Shootings: Reacting to the 2010 Cumbria Tragedy, the Dart Center's Gavin Rees reflects on the story and offers resources for journalists.
In a piece for Walkley magazine, the Dart Center's Bruce Shapiro points to some of what we've learned from covering mass shootings.
James Grimaldi, staff writer at the Wall Street Journal, talks about how to investigate gun sales.
For those who read German, Gisela Mayer, the mother of victim of the school shooting in Winnenden describes her family's experience of finding itself subject to media attention. 
Working with Traumatic Imagery
However compelling its news value, traumatic imagery needs to be handled with care, as it can place the wellbeing of those who work with it at risk. A Dart Center tip sheet.
ADVICE FOR EDITORS
Dart Center Executive Director Bruce Shapiro passes on lessons for newsrooms learned from the Virginia Tech shooting.
Quick tips on how to support your reporters during times of tragedy.
SELF-CARE
Quick tips on self-care from Dart Centre Asia Pacific.
Self-care advice from former editor Joe Hight.