2012 Dart Award Winners Named
April 5, 2012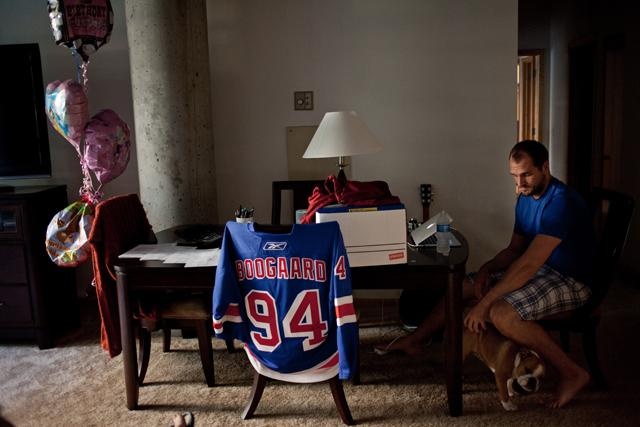 The Dart Center for Journalism and Trauma, a project of the Columbia Journalism School, has announced the winners of the 2012 Dart Awards for Excellence in Coverage of Trauma. The annual Dart Awards recognize outstanding reporting in all media that portrays traumatic events with accuracy, insight and sensitivity while illuminating the effects of violence and tragedy on victims' lives.
 
This year's winners are The New York Times and WNYC Radio. Honorable mentions go to NPR, The Arizona Republic and The Philadelphia Inquirer.
 
The New York Times received the Dart Award for "Punched Out: The Life and Death of a Hockey Enforcer." (John Branch, reporter; Marcus Yam, photographer; Shayla Harris, videojournalist; Josh Williams, multimedia producer.) This searing three-part investigative series tells the story of Derek Boogaard, one of the N.H.L.'s most feared "enforcers," who died with massive brain injuries at age 28. The series reveals the consequences – physical, psychological and social – of the adulation of violence surrounding the sport.
 
Judges called "Punched Out: The Life and Death of a Hockey Enforcer" a "groundbreaking" and "exemplary piece of accountability journalism." They praised Branch for his "masterful storytelling" and "tender objectivity," and for focusing on "human beings, science and anguish instead of thrill, agony and defeat." They commended the series for "taking on the sports page" and "drawing attention to sanctioned violence of fans." Judges also recognized the far-reaching, and wide-ranging impact of the series that has made it nearly impossible for those most vested in hockey to turn a blind eye to its cruel reality and disastrous impact.
 
WNYC received the Dart Award for "Living 9/11," which was presented by PRX, the Public Radio Exchange (Marianne McCune, reporter and producer; Emily Botein, producer; Karen Frillman, editor; Fred Mogul and Beth Fertig, reporters; Eric Leinung, Jillian Suarez, Erin Reeg, Norhan Basuni, Radio Rookies; Courtney Stein, Sanda Htyte, Radio Rookies producers; Kaari Pitkin, Radio Rookies senior producer; Chris Bannon, executive producer; Andy Lanset, original 9/11 recordings; John Ellis, composer; Paul Schneider and Jim Briggs III, mix engineers.) This hour-long documentary guides listeners through the stories of people who were deeply affected by the September 11, 2001 attacks and who are still struggling to make sense of the events.  The documentary is built around a diverse range of viewpoints, capturing visceral and immediate emotional reactions to the attacks while also illuminating universal truths about 9/11's lasting impact.
 
Judges called "Living 9/11" "insightful," "hard-hitting" and "deeply sensitive," going far beyond more conventional anniversary programs in its integration of history, science and narrative. They praised McCune and her team for comprehensively tackling the nuances of trauma and its long-term impact on individuals, families and an entire society. And despite the risks of re-opening old wounds, judges recognized the "respectful" and "skilled" approach to the topic and engagement with the listener. Additionally, they called the language "eloquent," the narration "restrained" and the use of the medium "perfect."
 
Each winning team will receive a $5,000 cash prize.
 
Honorable mentions, carrying no cash award, went to NPR for "Native Foster Care: Lost Children, Shattered Families" (Laura Sullivan, reporter; Amy Wallace, producer; Susanne Reber, editor); The Arizona Republic for "Tucson Tragedy" (Karina Bland, Jaimee Rose, Daniel Gonzalez, Cheryl Evans, David Wallace, Shaun McKinnon, reporters; Nicole Carroll, executive editor); and The Philadelphia Inquirer for "A Stray Bullet: A Shattered Life" (April Saul, Photographer, Writer, Videojournalist; Dorothy Brown, Enterprise Editor for print and multimedia; Jon Anderson, Video Editor).
 
NPR's "Native Foster Care: Lost Children, Shattered Lives" is a haunting three-part investigative series that investigates the placement of hundreds of Native American children in foster care and the troubling incentive behind that effort: money. Judges called the series "stunning" "impeccable" and a "deeply affecting piece of investigative journalism with tremendous impact."
 
The Arizona Republic's "Tucson Tragedy" is a compelling multi-part series and online multimedia package that examines the aftermath of the January 8, 2011 shootings in that city. Judges praised the reporting team's "tireless commitment" to the victims' stories, their families, survivors and the broader community. They cited the "sensitivity" of the reporting and focus on their "humanity," "resilience" and the trauma resulting from this collective tragedy.
 
The Philadelphia Inquirer's "A Stray Bullet: A Shattered Life" is a heart wrenching multimedia portrait of nine year-old Jorge Cartagena, the unintended victim of a neighborhood shooting that would blind him for life. Judges commended "A Stray Bullet: A Shattered Life" for its "powerful, sensitive depiction of rawness and agony of senseless violence."
 
The Dart Awards, established in 1995, are administered by the Dart Center for Journalism and Trauma, based at the Columbia Journalism School.   The Dart Awards are a team prize, recognizing that presenting in-depth journalism on these challenging subjects requires a newsroom-wide commitment. Begun as a newspaper-only competition, the Dart Awards now consider entries from across the media spectrum.
 
The 2012 winners will be recognized at a public ceremony the evening of May 3 at the Columbia Journalism School.
 
Finalists are:
Center for Investigative Reporting, "The Price of Sex"
Harper's Magazine, "Tiny Little Laws"
Milwaukee Journal Sentinel, "Imminent Danger"
Minnesota Public Radio, "A Child's View of Domestic Violence"
Minnesota Star Tribune, "Lost Warriors"
The New Yorker, "Climbers"
Tampa Bay Times, "Spectacle: The Lynching of Claude Neal"
 
First round judging is conducted by journalists, and final judging is conducted by a panel that combines journalists, mental health professionals and victim advocates.
 
First round judges for this year's Dart Awards were: John Barth, Managing Director, PRX; Aaron Glantz, Reporter, The Bay Citizen; Susan Kaplan, Reporter, WFCR-Amherst; Kristin Jones, Reporter, Dow Jones Newswires and 2011 Dart Award winner; Matthew Kauffman, Investigative Reporter, The Hartford Courant and 2007 Dart Award winner; Kathie Klarreich, Freelance Writer and Author; Nell Lake, Founding Editor, Nieman Storyboard at Harvard; Rebecca Palpant, Assistant Director, The Carter Center Mental Health Program; and Rob Perez, Reporter, Honolulu Star-Advertiser and 2008 Dart Award Winner.
 
Final round judges were: Maria Alvarez, Reporter, Newsday; John Dinges, Godfrey Lowell Cabot Professor of Journalism, Columbia Journalism School;  Susan Herman, Professor, Pace University; Karestan Koenen, Ph.D., Associate Professor, Mailman School of Public Health, Columbia University and president-elect, International Society for Traumatic Stress Studies; and Fred Ritchin, Professor, Tisch School of the Arts, New York University.