2015 Dart Award Winners Announced
April 9, 2015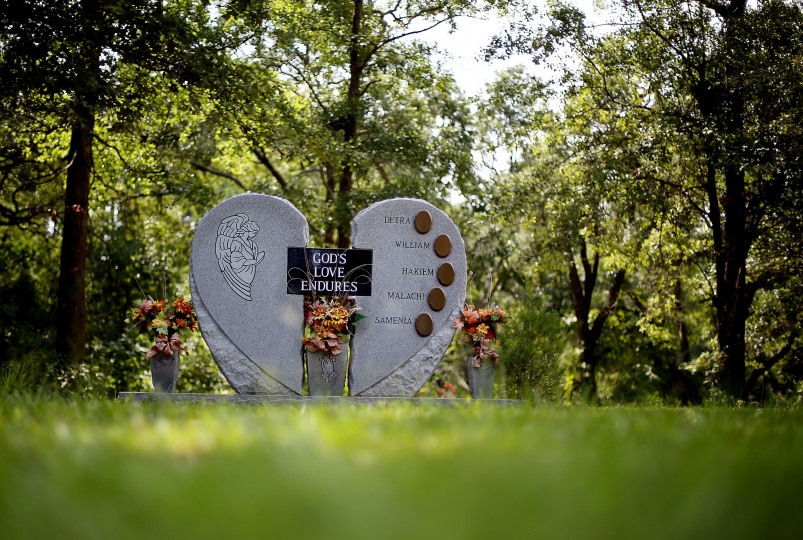 We're pleased to announce the winners of the 2015 Dart Awards for Excellence in Coverage of Trauma: The Texas Observer with The Guardian, The Huffington Post and The Post and Courier. An honorable mention went to The Baltimore Sun.
The annual Dart Awards recognize outstanding reporting in all media that portrays traumatic events with accuracy, insight and sensitivity while illuminating the effects of violence and tragedy on victims' lives.
The Post and Courier received the Dart Award for "Till Death Do Us Part" (Doug Pardue, projects reporter; Glenn Smith, watchdog/public service editor; Jennifer Hawes, projects reporter; Natalie Caula-Hauff, reporter; Grace Beahm, photojournalist; J. Emory Parker, interactive editor; Chris Hanclosky, videographer and multimedia producer; Maureen Hartshorn, page designer). This comprehensive five-part print and multimedia series exposes South Carolina as a state where more than 300 women died from domestic abuse over the past decade while political leaders did little to stem the violence. The series reveals numerous failings, including limited police training, inadequate laws, a lack of punishment, insufficient education for judges, a dearth of victim support, and traditional beliefs about the sanctity of marriage that keep victims locked in the cycle of abuse. The series evoked a strong response from state political leaders vowing reforms. 
Judges called "Till Death Do Us Part" "extraordinarily powerful," "so thoroughly reported and well written as to feel like the definitive work on domestic violence in South Carolina." They praised the series for its "deep cultural analysis," "laying bare the roots of domestic violence, from religion to Southern culture to political inaction to legal leniency." Judges also commended the series for "breaking new ground" by "exploring the myriad forces that contribute to the problem of domestic violence," and "creating rich and insightful portraits of victims and survivors," demonstrating how this problem affects people of all ages and demographics. They also remarked on the story's "significant impact on a policy and legislative level." 
The Huffington Post received the Dart Award for "Moral Injury" (David Wood, senior correspondent; John Montorio, executive features editor). This provocative three-part series examines the concept of moral injury, a phenomenon where combat or operational experiences transgress deeply held moral and ethical beliefs that undergird a service member's humanity; often seen as damage to the soul. The series offers a deep, intimate portrayal of soldiers' moral struggles and delivers new scientific concepts beyond PTSD, furthering the conversation for a general public. 
Judges praised the series for "gracefully and confidently marrying the humanity and understanding of its survivors with a gritty, powerful investigation that breaks new ground." They called Wood's writing "incredibly thoughtful," "compelling," and "artful," and praised him for "delving deeply" into complex new territory. They called the video elements "powerful" and "illuminating." 
The Texas Observer with The Guardian US received the Dart Award for "Beyond the Border" (From the Texas Observer: Melissa del Bosque, investigative reporter; Eugenio del Bosque Gomez, photographer; David Mann, senior editor; Jen Reel, multimedia editor; Brad Tyer, managing editor, Esther Kaplan, Editor, Investigative Fund. From The Guardian US: Feilding Cage, interactive editor; Kenan Davis, interactive journalist; Rich Harris, interactive journalist; Alex Koppelman, US news editor; Nadja Popovich, interactive journalist; Kenton Powell, interactive journalist; Mae Ryan, video journalist.) This wide-ranging four-part investigative print and multimedia series examines the impact that the current immigration crisis has on those directly affected. Portraying various players who are often pitched against each other – the migrant and her family; a rancher whose land is used and abused by smugglers; the sheriff of a poor border town who has an international humanitarian crisis on his hands; and the Guatemalan consul who tries to help stranded migrants from all countries, not just her own – these complex, humane portraits create a strong, haunting sense of the community that has formed in Brooks County, Texas in the face of overwhelming numbers of people risking their lives to escape violence in their homelands. 
Judges called "Beyond the Border" a "masterfully executed" series that takes an abstract issue like immigration policy and "makes it real," portraying each character as the "complicated individuals that they are, not just the roles they occupy in this epic drama." They praised the series for offering a "sensitive but not mawkish" look at the horrific reality unfolding, and for its "holistic" examination of a crisis. They called del Bosque's prose "eloquent" and "gripping," and the care of detail in the narrative and visual components "wonderfully compelling." They also praised the multimedia elements, calling them "powerful," "enriching" and "unforgettable."
Each winning team will receive a $3,500 cash prize.
An honorable mention went to The Baltimore Sun for "Collateral Damage" (Andrea K. McDaniels, health and medicine reporter; Lloyd Fox, photographer; Diana K. Sugg, project editor; Dave Rosenthal, senior editor for investigations and enterprises). This illuminating three-part series explores the collateral consequences of violence on children, caregivers, educators and others not directly in its line of fire. Drawing on new scientific research and interviews with educators, community advocates and survivors of violence, "Collateral Damage" demonstrates the far-reaching ripple effect of violence on one urban community. Judges called the series "eye-opening" and "compelling," and praised the "compassion" and "clarity" with which the story was approached and executed. 
The Dart Awards, established in 1994, are administered by the Dart Center for Journalism and Trauma, based at the Columbia Journalism School. The Dart Awards are a team prize, recognizing that presenting in-depth journalism on these challenging subjects requires a newsroom-wide commitment. The Dart Awards consider entries from across the media spectrum, including newspaper, radio, online, multimedia, film and video.
The 2015 winners and honorable mention will be recognized on April 30 at 6:00pm at Columbia Graduate School of Journalism. The event is free and open to the public.
Finalists: 
AXS TV /Dan Rather Presents, "Unwanted in America"; BuzzFeed News, "Ebola Coverage"; Chattanooga Times Free Press, "Into the Darkness"; Tim Matsui & MediaStorm, "The Long Night"; NPR, "The Ebola Outbreak"; The Salt Lake Tribune, "The Last Leg"; Stars & Stripes, "Casualties of the Afterwar"; Washingtonian, "This is Danny Pearl's Final Story"
The jury combines journalists, educators and mental health professionals. 
Final Judges: David Boardman, dean, Temple University School of Media and Communication; Kenny Irby, senior faculty, Visual Journalism and Diversity and director of Community Relations, Poynter; Kathryn Magruder, M.P.H. Ph.D., professor, department of Psychiatry & Behavioral Sciences, Military Science Division, Medical University of South Carolina and board member, International Society for Traumatic Stress Studies (ISTSS); and Alisa Solomon, professor, Columbia Journalism School.
First Round Judges: Scott Blanchard, Sunday editor, York Daily Record and 2013 Dart Award honorable mention; Martin Evans, military and veterans affairs reporter, Newsday; Stefanie Friedhoff, freelance journalist; Tom Gorman, executive editor, Las Vegas Sun and 2014 Dart Award winner; Susan Kaplan, reporter, WCFR - New England Public Radio; Kelly Kennedy, freelance journalist; Dina Kraft, freelance journalist; Russell Lewis, Southern Bureau Chief, NPR; Tara Murtha, freelance journalist; Sacha Pfeiffer, The Boston Globe; Kari Pricher, senior producer, CNN; Bob Sacha, professor of visual journalism, CUNY Graduate School of Journalism; and Clarence Williams, photojournalist.