Grief and Debate In The Aftermath of A Murder
August 21, 2014
As the journalism community continues to grapple with the execution of American journalist James Foley in Syria, new details are released about a rescue attempt, and debate begins anew over the use of violent imagery. The Dart Center has resources for journalists coping with this loss, and for those who continue to cover the story.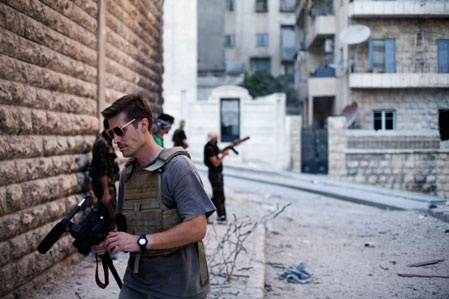 As the journalism community continues to grapple with perhaps the most graphic execution of a journalist since Daniel Pearl's beheading in Pakistan in 2002, the Obama administration revealed that it had attempted earlier this summer to rescue American hostages in Syria, including James Foley, who had been missing there since 2012. Foley, a freelancer who worked for Global Post and Agence France-Presse, was beheaded in a videotaped execution in Syria released Tuesday by members of ISIS. Foley was 40 years old and is being remembered widely by colleagues and family for his bravery and insight. 

According to the White House, the rescue operation included several dozen operations forces dropped by air into the area, but after a firefight with militants, they did not find the hostages and were airlifted out, perhaps missing them by "a matter of hours."

According to Philip Balboni, the chief executive and co-founder of GlobalPost, his news organization paid a security firm "millions" of dollars to try to find Foley. The New York Times is reporting that ISIS demanded 100 million Euros from the U.S. government for his release. "Kidnapping Europeans has become the main source of revenue for Al Qaeda and its affiliates, which have earned at least $125 million in ransom payments in the last five years alone," the story said.

The Committee to Protect Journalists estimates that there are still 20 journalists missing in Syria. Another American journalist, believed to be Steven J. Sotloff, a freelancer for Time magazine and Foreign Policy, appeared on camera at the end of the video depicting Foley's execution. "The life of this American citizen, Obama, depends on your next decision," the jihadist holding him said in a British accent.

Meanwhile, the graphic nature of the killing and its depiction in the media has sparked heated debate in many quarters over the use and impact of violent imagery. Questions include whether disseminating the gruesome content of the execution, while clearly news, is morally problematic due to its potential to empower and enable ISIS. Family and friends of Foley are also expressing displeasure with news outlets that have published gruesome images, citing a desire to protect their memories of him before his violent death.
The Dart Center has a host of resources for journalists who are dealing with this loss and covering the story: