Aftermath of the Norway Attacks
July 23, 2011
As Norway responds to the worst attack on its citizens since the Second World War, the Dart Centre has assembled a selection of resources for journalists covering the tragedy.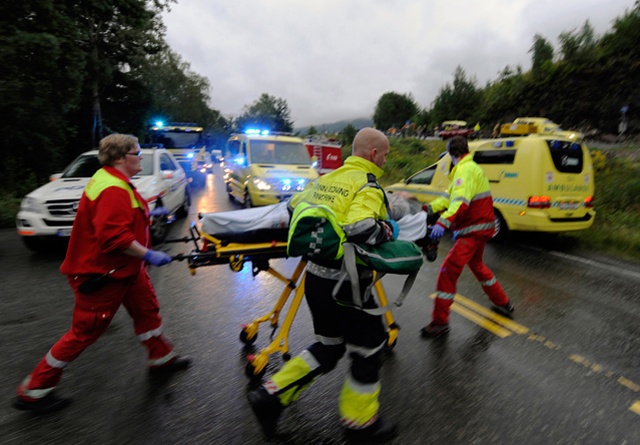 Norway is mourning the deaths of 69 people at a youth camp on a small island. The shooting came hours after a powerful explosion rocked central Oslo, killing eight people and blowing out most of the windows on the block where Prime Minister Jens Stoltenberg works. For journalists and news managers covering the aftermath of these attacks, the Dart Center has assembled resources and tipsheets gleaned from past mass shootings, terrorist attacks and disasters.
COVERING MASS KILLINGS
Psychiatrist Frank Ochberg, M.D. and Bruce Shapiro, executive director of the Dart Center, share insights on covering mass killings in the aftermath of the Arizona shooting that left six dead and a U.S. Congresswoman grievously injured.
Reporter Dave Cullen's lessons from a decade of reporting on the Columbine attacks.
A self-study unit on covering terrorism.
Quick tips on working with victims and survivors from Dart Centre Asia Pacific.
A compilation of journalist-to-journalist advice.
For those who read German, Gisela Mayer, the mother of a victim of the school shooting in Winnenden describes her family's experience of finding itself subject to media attention. 
COVERING CHILDREN AND TEENAGERS
Quick tips for interviewing children.
The Dart Center's comprehensive guide, "Covering Children and Trauma."
ADVICE FOR YOUTH JOURNALISTS
A series of resources on covering school shootings, with lessons from student journalists who covered shootings at Northern Illinois University and Virginia Tech.
ADVICE FOR EDITORS
Dart Center Executive Director Bruce Shapiro passes on lessons for newsrooms learned from the Virginia Tech shooting.
Quick tips on how to support your reporters.
SELF-CARE
Quick tips on self-care from Dart Centre Asia Pacific.
Note: the casualty numbers have been updated to reflect the latest figures released by the Norwegian Police, as of 4 August 2011.