Announcing the 2011 Ochberg Fellows
August 25, 2011
Ten journalists from around the world have been awarded the 2011 Dart Center Ochberg Fellowship.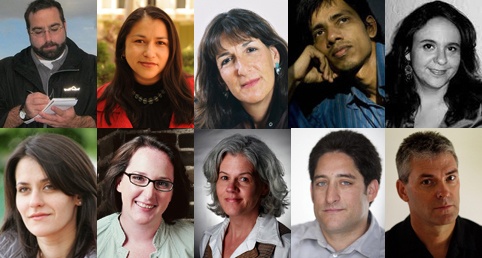 The Dart Center for Journalism and Trauma at Columbia University's Graduate School of Journalism today announces the recipients of the 2011 Dart Center Ochberg Fellowships for coverage of violence and trauma.

The Ochberg Fellowships were established in 1999 by the Dart Center for journalists seeking to deepen their reporting of traumatic events. Fellowships are awarded to outstanding mid-career journalists in all media who have dedicated much of their work to covering violence, conflict and tragedy, including street crime, family violence, natural disasters, war and genocide.

The week-long Ochberg Fellowship offers journalists a unique opportunity to learn about the many dimensions of psychological trauma and to forge relationships with colleagues who share their interests. Fellows attend seminars with leading experts in trauma science and journalism practice, and participate in the annual conference of the International Society for Traumatic Stress Studies.

The 2011 Dart Center Ochberg Fellows are (detailed biographies are below):
Elizabeth Aguilera, San Diego Union-Tribune, San Diego, California
Natasha Gardner, 5280 Magazine, Denver, Colorado
Aaron Glantz, The Bay Citizen, San Francisco, California
Khaled Hasan, Independent Photojournalist, Bangladesh
Kateryna Ivanova, Rivne Investigative Reporting Agency, Ukraine
Kathie Klarreich, Independent Journalist, Haiti
Beth Macy, The Roanoke Times, Roanoke, Virginia
Joe Raedle, Getty Images, Miami, Florida
Dan Shortridge, The News Journal, New Castle, Delaware
Marcela Turati, Revista Proceso, Mexico
The fellowship program is named in honor of Frank Ochberg, M.D., clinical professor of psychiatry at Michigan State University and a pioneering figure in the definition and treatment of post-traumatic stress disorder, Stockholm Syndrome and other responses to violence, trauma and terror. Ochberg, winner of the Lifetime Achievement Award from the International Society for Traumatic Stress Studies, is chairman emeritus of the Dart Center.
The 2011 Dart Center Ochberg Fellows

Elizabeth Aguilera is a reporter at the San Diego Union-Tribune where she covers immigration and demographics and also writes about the economy and its impact on families. Throughout her career Aguilera has written about the devastating effects of natural disasters, living with HIV/AIDS in Cuba, the victims of 9/11 and families in crisis.  She was a finalist in 2005 for the Livingston Award for Young Journalists for her reporting on the aftermath of Hurricane Katrina. Aguilera joined the Union-Tribune staff last year after a one-year Annenberg Fellowship at the University of Southern California in Specialized Journalism where she focused on urbanization, culture and immigration. In 2010, she was named a Marshall Memorial Fellow and toured Europe to exchange ideas and learn about transatlantic issues, with a focus on migration and culture, through the German Marshall Fund of the United States. She spent seven years in Colorado writing for The Denver Post  and previously reported for the Orange County Register and Long Beach Press-Telegram.  Aguilera is a lifetime member of the National Association of Hispanic Journalists. Her work has been recognized by the Colorado Press Association, the Society of Professional Journalists and the Orange County Press Club.  A native of Los Angeles, she is a graduate of Pepperdine University and the University of Southern California.


Khaled Hasan is a storyteller and photographer. Hasan has worked as a freelancer for several daily newspapers in Bangladesh as well as for international magazines. His documentary project "Living Stone" has won numerous international awards. He has received many awards and prizes including an All Roads Photography Award from the National Geographic Society, the Alexia Foundation's Student Award for Excellence, a Humanity Photo Documentary Award from UNESCO, and the CDP Emerging Documentist Award. His photographs have been exhibited around the world. Hasan received an advanced diploma in photojournalism from Pathshala, the South Asian Media Academy.



Kateryna Ivanova heads the only investigative news organization in Ukraine, the Rivne Investigative Reporting Agency. She also runs a multimedia investigative project called Chetverta Vlada - The Forth Estate. Ivanova was trained by IREX U-Media as a certified media trainer and has developed several training courses and delivered an array of trainings to emerging journalists and as part of investigative reporting seminars organized by the Regional Press Development Institute. She worked as a journalist, editor and executive editor for several newspapers under the publishing house "OGO" in Rivne, Ukraine. In 2008 she co-authored the book Investigative Reporting: Manual for Beginners.



Natasha Gardner is a writer and editor at 5280, Denver's magazine. Gardner's investigative work focuses on the justice system and child welfare. She has twice been named a finalist in the civic journalism category of the City and Regional Magazine Awards, and was a National Magazine Award finalist in the personal service category in 2010.

Aaron Glantz is a staff reporter at the Bay Citizen, a former editor at New America Media and the author of two books on the Iraq war, The War Comes Home: Washington's Battle Against America's Veterans and How America Lost Iraq. He is also co-author with Iraq Veterans Against the War of Winter Soldier Iraq and Afghanistan: Eyewitness Accounts of the Occupations. He has been a fellow at Columbia University Teachers College and the Carter Center in Atlanta.

Kathie Klarreich began her career as a journalist in Haiti in 1986. Since then, she has reported for print, radio and television. As one of the International Center for Journalists' Knight International Journalism Fellows, her current focus is coaching and mentoring Haitian journalists in investigative reporting skills to help them track the aid money. Klarreich has reported for, among others, The New York Times, TIME, The Christian Science Monitor, PBS, ABC, NBC, CNN and NPR and Pacifica radio. Her memoir Madame Dread: A Tale of Love, Vodou and Civil Strife captures her decade in Haiti against a backdrop of social, political, cultural and economic turmoil. Klarreich flew to Haiti the day after the 2010 earthquake and reported on the rescue and recover effort until she became a Knight Fellow last July.

Beth Macy is the families beat reporter at The Roanoke Times in Virginia, where she has worked since 1989. Her reporting on immigrant families has won several national honors, including a Casey Medal for Meritorious Journalism, a Columbia University race reporting prize and inclusion in "The Best Newspaper Writing: 2007-2008." A 2010 Nieman Fellow in Journalism at Harvard University, Macy produced a multimedia series called "Age of Uncertainty," about the challenges facing seniors and caregivers in her region in 2008. The series won Documentary Project of the Year from Pictures of the Year International, as well as the Associated Press Managing Editors' Award for online convergence, a Casey Medal and the Virginia Press Association's top prize for public-service reporting. Macy has taught literary journalism at Hollins University and written articles and essays, most recently for O, The Oprah Magazine; Parade magazine; The Chronicle of Higher Education and American Journalism Review. Her November 2010 story about cholera in Haiti won the 2011 Associated Press Managing Editors award for international reporting.

Joe Raedle is a photographer with Getty Images based in Miami. His work with Getty has varied from festivities in the bayous of Louisiana to the mountain peaks of war-torn Afghanistan and the deserts of Iraq. Raedle started his education in photography 27 years ago as a student at the Maine Photographic Workshop in Rockport. He chose Miami as the place to continue his studies so he could launch a career in a city where strife was making national headlines at the time: the McDuffy riots, Mariel boatlift, Cocaine Cowboys. A graduate of the University of Miami, Raedle had internships at UPI, Miami News and St. Petersburg Times.  He was hired as a staff photographer at Fort Lauderdale's Sun-Sentinel in 1987 and his 11-year tenure there took him across the globe to cover turbulent events that stretched from Haiti to the Middle East. In 1998, Raedle started freelancing from El Paso, Texas, where he documented a variety of issues along the U.S.-Mexico border.

Dan Shortridge is a bureau reporter for The News Journal in Wilmington, Delaware and The Daily Times in Salisbury, Maryland. He was part of a team that won a 2010 Sigma Delta Chi Award for public service journalism for its coverage of the case of a Delaware pediatrician convicted of raping or abusing more than 80 young patients. He has covered murder cases, including the killing of a young police officer in 2009, the aftermath of multiple-fatal car crashes and teacher-student sex crime cases.

Marcela Turati is a reporter for the Mexican magazine Proceso where she covers social issues, human rights and the impact of drug trafficking and violence. Her current assignment is Ciudad Juarez, now considered the most violence city in the world. Turati is the author of the book Fuego Cruzada: Las Victimas Atrapadas en la Guerra del Narco, which examines the objectification and dehumanization of the war's dead, and its effects on individuals, families and communities. She is also the editor and co-author of two other books, Migraciones Vemos… Infancias No Sabemos, about the lives of Mexican child migrant laborers; and La Guerra por Juarez, which chronicles three narratives of violence in different sectors of the city. She has won awards from, among others, the United Nationas Procurement Division's Millenium Development Goals in Latin America and the Caribbean and the Inter Press Service News Agency. She is a contributor to newspapers and magazines in Peru, Chile, Colombia, Uruguay, Ecuador and the U.S. Turati is co-founder and member of the board of directors of the On-the-Ground Journalists network, which is dedicated to training Mexican journalists.
See bios of past Ochberg Fellows.