Award Winners Offer Advice on Covering Trauma
June 21, 2015
At this year's Dart Awards winners' roundtable, Melissa del Bosque, Andrea McDaniels, Mae Ryan, Glenn Smith and David Wood shared tips on covering violence, building trust and self-care.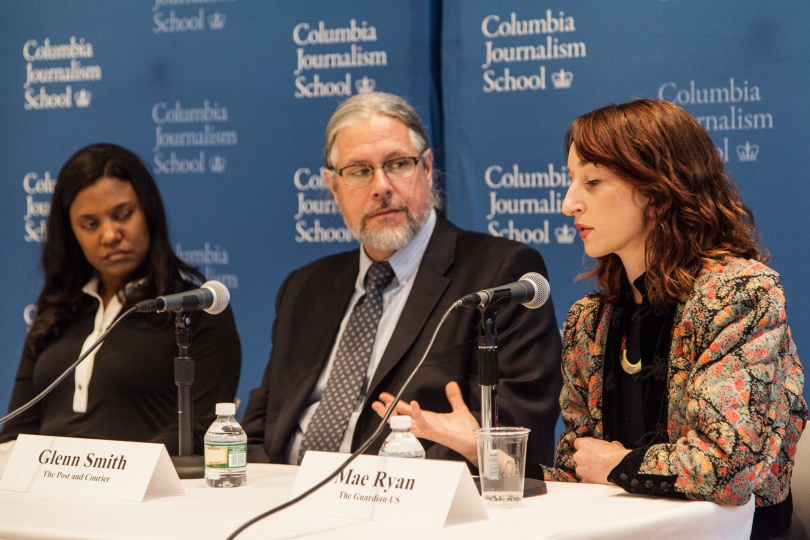 This year's Dart Awards went to The Texas Observer with The Guardian U.S. for "Beyond the Border," The Huffington Post for "Moral Injury" and The Post and Courier for "Till Death Do Us Part." An honorable mention went to The Baltimore Sun.
The roundtable discussion got under the hood of each of the 2015 Dart Award winning pieces and honorable mention; drilled down on what's involved in undertaking hard-hitting, humane investigations of trauma, high-impact collaborations and innovative approaches to reporting on violence, conflict and tragedy.
Full event video is available below - discussion begins at 42:35. Scroll down for paraphrased tips.

COVERING VIOLENCE
Andrea McDaniels: No story is black and white. Resist the urge to write about people just as victims. Write about them as full people. Although these families are suffering, they also love their children and want them to do well. They want their neighborhoods to do well. Do your best to paint the full picture. Try to tell your story through the eyes of the people it's actually affecting. Think about and investigate the effects of violence beyond the physical. How else does violence affect peoples' health and mental health?
Nobody you interview should be surprised by what they see in your story – be straightforward and open about what you are going to include. Explain that you are there to do a job – you are a reporter and have to tell the facts and that can involve difficult things, like background checks and interviews with family members. But also let them know that you understand and that you'll show the nuance of the situation – that just because your son is involved in some kind of criminal activity doesn't mean that your grief is any less.
Glenn Smith: Recognize your own numbness. South Carolina was ranked as the most dangerous place for women for multiple years – ask yourself how statistics like this no longer shock. Put a team together and do all you can to go beyond surface-level reporting.
Don't just tell the story of violent acts and the aftermath of violent acts. Go deeper. In the case of domestic violence, explain the complexity, i.e. the controlling nature of domestic violence. And help your subjects understand that you are interested in more than just the horrific acts that occurred; that you want to help others learn and better understand their own situations. 
Don't include graphic detail just for shock value. Use just enough to drive the point home that this is a serious issue.
For a bigger story, loop in as much of the team as possible right from the start. This way your team is open to all kinds of different perspectives and creativity from the get-go, and more of your newsroom is invested in the story.
Frame out an idea and what you hope to accomplish from the outset and file that away. The story has the potential to pull you in all kinds of directions, so take out that framework every so often to help regain your focus.
David Wood: When you start out doing a project, you have an idea of where it's going and why it would make for a great story. But don't let that idea limit you and your reporting. Stay open to being surprised.
It's ok to be a slow learner. Good stories often take a long time to germinate. Wood says it took him 35 years of reporting to write this story, for two reasons:
It took that long to develop patience, a key ingredient in writing about people who have been traumatized. Traumatized people often build up protective barriers to avoid that trauma again. And so it takes awhile to really break through. 
Learn to listen with a sense of validation. In the case of a marine who shot someone in a morally ambiguous situation, that means resisting the urge to interrupt and tell him, "Oh it's ok. You couldn't help it. It was war, bad things happen." That's a human impulse – but it's the wrong one. The worst thing you can do is to deny the validity of what the person is saying. 

Instead, sit back and let him tell his story. And when he's finished, say something in a validating way, like "That was screwed up. That was a bad situation." 

BUILDING TRUST
Mae Ryan: It takes time to develop trust with people who have a lot to lose. Before setting up your equipment, take the time to meet with people. Explain what it is you're doing and try to get a sense of who they are. If possible, avoid meeting for the first time when you're turning on the lights. Once you get into a rhythm with someone, they can forget that there's a major production going on around them. The same goes for after the lights go off – put in the time then as well.
Especially in a small town, make sure people know who you are and that you are there. You want them to call you when something is happening. Especially with video, you really have to be there and see things as they're unfolding.
Andrea McDaniels: Be conscious of who else has been there before you – a lot of the time people feel exploited. Researchers from large institutions often come in for a short time and leave once the money runs out. To get past that distrust, spend time in the communities and reach out to those who can bridge that gap, like community leaders and social workers. 
Don't be afraid to show compassion – it's important for them to see the reporter as being human, too. Be open about your intentions and be respectful of a subject's limitations. And be prepared for people to drop out of the reporting process.
David Wood: "I'm in the business of telling stories, not in the business of ruining your life." Sometimes, you just have to leave something out of your story, or think of a different way to tell it altogether. That's a really hard thing to do because as storytellers, our instinct is to tell the most complete version we can without leaving anything on the table. But sometimes you have to do that.  
Glenn Smith: Trust but verify. Let them know you need to fact check. Saying that in and of itself helps establish trust – your subjects will understand that you are thorough and serious about getting it right. And that that applies to all of your reporting.
Melissa del Bosque: Don't ignore what's happening right in front of you just because it's in plain sight or seems obvious. When you invest in the story, take the time to go beyond the stereotype toward the complexity and the real human impact of the situation. A lot of undocumented people aren't familiar with the media and how it works. So you owe it to them to put in the time before you start interviewing – show them the publication you work for, talk about the story and figure out if they are comfortable participating. 

SELF-CARE
Andrea McDaniels: Remember your mission. Even if you feel like you can't change the situation, seek out colleagues and connect with people who can. A conversation with a social worker who is working on the issue can go a long way.
Glenn Smith: When you're working with a team, have regular meetings about what you've been through. That ensures you're all on the same page and gives you the knowledge that you aren't in this alone. It will help renew your shared sense of purpose.
Mae Ryan: Feel out and understand your boundaries early on. Otherwise it will creep in in a real way after you're done reporting.
Melissa del Bosque: Find balance in your life. No matter the situation, do what you can to maintain normalcy.
David Wood: Among the sadness and the trauma, it's important to leave people with a sense of hope. That will leave you with a sense of hope, too
Speakers Bios:

Melissa del Bosque has covered the US-Mexico border since 1998. She has been an investigative reporter with The Texas Observer since 2008. Her work has been published in national and international media outlets, including TIME magazine, The Guardian, and the Mexico City-based Nexos magazine. Del Bosque's work has also been featured in television and radio on Democracy Now!, PBS, Al Jazeera, the BBC and National Public Radio. Her 2012 investigative feature about massacres in the Juarez Valley, Mexico, was a National Magazine Award finalist in the reporting category, and won awards from both the Association of Alternative News Media and the Pan American Health Organization. She is a 2014-15 Lannan Fellow at The Investigative Fund.

Andrea K. McDaniels is an award-winning health and medicine reporter at The Baltimore Sun, where she writes about the latest fitness trends, public health issues and medical advances. She has also covered minority and small business, manufacturing, retail and marketing since coming to the newspaper in 2001. Prior to that she worked as a reporter at The Charlotte Observer. She is a native of Virginia and attended the University of Maryland.

Mae Ryan is a video journalist for Guardian US, where she directs, shoots and edits features and news videos. Mae's work has won first place in the National Magazine Awards, National Entertainment Awards and the Los Angeles Press Club. Prior to working at the Guardian she worked as a photographer and video journalist for KPCC – a local NPR station in Los Angeles.
Glenn Smith is projects editor for The Post and Courier. He is a 2014 H.F. Guggenheim Journalism Fellow and was named South Carolina's Journalist of the Year for 2012. Smith has received two National Headliner Awards, two Taylor-Tomlin Awards for Investigative Reporting, an International Association of Fire Fighters Media Award and a New England Associated Press Newspaper Executives Association's public service award. He also was part of a team that won SPJ's 2008 Sigma Delta Chi awards for deadline and non-deadline reporting, and the American Society of Newspaper Editors' 2008 Jesse Laventhol Prize for deadline news reporting. He and his wife have a daughter.

David Wood is a senior correspondent for The Huffington Post. His series on severely wounded veterans of Iraq and Afghanistan won the 2012 Pulitzer Prize for national reporting. Wood has been a journalist since 1970, a staff correspondent successively for Time Magazine, the Los Angeles Times, Newhouse News Service, The Baltimore Sun and AOL's Politics Daily. A birthright Quaker and former conscientious objector, he covered guerrilla wars in Africa as Time Magazine's Nairobi bureau chief (1977-1980). As a Washington-based correspondent since 1980, Wood has reported on national security issues at the White House, Pentagon and State Department, and has covered conflicts in Europe, Africa, the Middle East and Central America. A Pulitzer Prize finalist in 1998, Wood has won the Gerald R. Ford Prize for Distinguished Defense Reporting and other national awards.