Behind the Bushfires
A newspaper editor gives a look behind the scenes at how journalists are coping with covering the aftermath of Australia's worst natural disaster.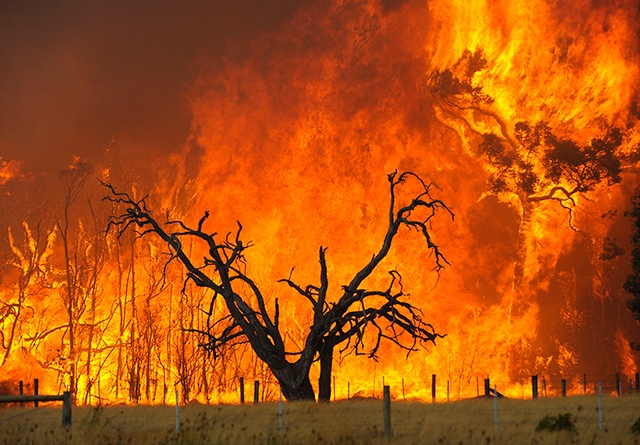 Few journalists don't relish the opportunity to cover a "big" story. Such has been the case with the Victorian bushfires this month, where as many as 300 people are feared dead, more than 1800 homes destroyed and 7000 people left homeless.
Two townships – Kinglake and Marysville – have been all but wiped off the map, while dozens of others have been scarred irrevocably.
This is undoubtedly a big story for journalists and we make no apologies for wanting to be part of it. Covering the news is our job, and we should never apologise for wanting to do our job well.
For many journalists, though, this has been one of the toughest assignments they have ever had to face. These are horrors happening in our own communities. And in some cases, those horrors have hit awfully close to home.
Former colleagues of former Channel Nine news reader Brian Naylor were shocked by news of his death, along with that of his wife, Moiree, but masked their own pain to get on with their duties.
Reporter Tony Jones and presenter Peter Hitchener, who succeeded Mr Naylor, reported news of their friend's death, live to air. Their own grief would wait until later.
In Bendigo, The Advertiser's editor, Peter Kennedy, was out with his own team covering the fires, but was forced to leave to evacuate his own wife and children (who, fortunately, all survived). Bendigo's chief photographer, Bill Conroy, however, lost his family home.
News Ltd's Gary Hughes watched at his home of 25 years burned to the ground at St Andrews. The death toll in that community so far is 22, many of them known to Mr Hughes.
He used his skills as a writer to bring to life the experiences of those who survived the fire.
"They call it ember attack,'' he wrote in The Australian. ``Those words don't do it justice. It is a fiery hailstorm from hell driving relentlessly at you. The wind and driving embers explore, like claws of a predator, every tiny gap in the house. Embers are blowing through the cracks around the closed doors and windows.''
Marion Taffe, also a News Ltd journalist working on its daily commuter newspaper mX, wrote a moving tribute to her cousin Rob Davey, his wife, Tash, and their daughters, Jorja, 3, and Alexis, eight months, who perished at Kinglake. The toughtest story she's ever written.
The Victorian bushfires are unparalleled in terms of a disaster on our own soil.
Seasoned journalists who have covered tragedy in all parts of the world have been particularly affected by what they have witnessed this past fortnight.
One Fairfax veteran, who had been in Asia for the tsunami, and in Iraq and Afghanistan looked ashen-faced as he returned from the field.
``It's about headspace,'' his editor said later. ``There is something very different about covering a disaster on home ground than on foreign soil,'' he said.
For editors, the bushfires have presented a two-fold dilemma: How do you get the best possible coverage for readers, viewers and listeners while at the same time ensuring the welfare of your staff.
Editor of The Age, Paul Ramadge, said he was rotating news teams through the frontline and enforcing time off.
"Some of them didn't want days off, but it was in their best interests to make sure they got a good rest," Mr Ramadge said.
And it isn't just journalists on the frontline who are exposed to the trauma of the bushfires.
Picture editors, sub editors, bulletin producers and others involved in preparing copy must trawl through hundreds of images, thousands of words and hours of footage in order to deliver the best possible outcome for consumers of news.
Unlike readers, viewers or listeners, they can't just switch off. They must note every detail as they go about deciding what if fit to publish and what is not.
After the September 11 terrorist attacks in 2001, it was reported that some picture editors needed counselling to help them deal with the images they had seen.
Like 9/11, these fires have been constant front page news, and legitimately so.  Most daily newspapers have recorded an anecdotal boost in circulation for those days.  In the early days in particular, readers had insatiable appetites for the latest news.
However, editors needed to remain aware of "fire-fatigue" among readers. That's not to say we take it off the front page, but we instead put different focus on the coverage – the "hero fire fighters", the overwhelming public response to relief appeals, even the survival of Sam the koala.
It will be some time before these fires become "old news". There's still an official death toll to be reached, many, many funerals to be had and a Royal Commission to sit through. And among those shedding tears will be the journalists who, through their reporting, have become a part of this tragedy.
And those tears do not make us weak. They just make us human.