A Call for Global Safety Principles and Practices
February 12, 2015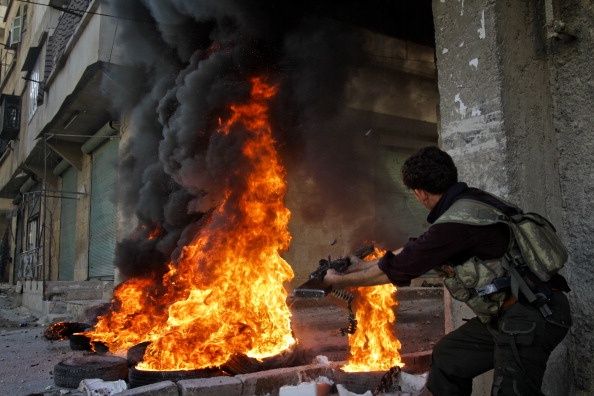 In response to the growing wave of intimidation, abduction and killing of journalists around the world, more than two dozen prominent news organizations and advocacy groups today signed on to an unprecedented set of international safety standards for freelance reporters on dangerous assignments.
The standards for international news organizations and the freelance reporters who work with them are outlined in a document titled "Global Safety Principles and Practices," which was released on Thursday evening at an event, open to the public, at Columbia University's Graduate School of Journalism, sponsored by the school's Dart Center for Journalism and Trauma. 
For those who missed the event, click below for full video coverage:
Drafted by an international group of freelancers, staff foreign correspondents, news executives and advocates, the guidelines' initial signatories include AFP, The Associated Press, the BBC, Bloomberg, GlobalPost, Reuters, the Frontline Freelance Register, the Committee to Protect Journalists, The GroundTruth Project, the Overseas Press Club, the Pulitzer Center for Crisis Reporting, Reporters Without Borders and numerous others.  
"Reuters is proud to join an unprecedented alliance of top news organizations to work to protect the freelance journalists who play such a vital role in news coverage world-wide," said Reuters Editor in Chief Stephen J. Adler. "At Reuters, we are committed to providing the same levels of security, training, and safety equipment for freelancers as we do for staff reporters working in all the most dangerous places on earth."
Kathleen Carroll, executive editor of The Associated Press, said that "as journalists face ever-increasing risks to gather the news that the world needs, it is vitally necessary to put in place best practices to keep them as safe as possible to do their jobs. We at AP have embraced the values represented by these practices, and we believe they will help set the standard for the industry to protect journalists and ultimately to save lives.'' 
"This is just the beginning, but we think it is a good start to a process of making sure freelancers are provided the respect, the dignity, the protections and ultimately the fair pay they deserve," said Vaughan Smith, chair of the Frontline Freelance Register which represents some 500 freelance journalists around the world. 
A preamble to the shared protocols highlights the threat of violence and murder to both locally-based journalists as well as international freelancers, stating, "These attacks represent a fundamental threat not just to individual news professionals, but to the practice of independent journalism." 
"The role of freelancers in reporting conflict and crisis around the world has grown in significance even as threats rise," said Bruce Shapiro, executive director of the Dart Center for Journalism and Trauma, a Columbia-based program supporting journalists who cover violence, conflict and tragedy.  "The news companies, freelance organizations and advocacy groups who came together to support these guidelines all understand that we are in a crisis which demands action."
The signatories endorse the standards and practices as "a first step in a long-term campaign to convince news organizations and journalists to adopt these standards globally."
In light of the murders in recent months of freelancers James Foley, Steven Sotloff, Kenji Gota and Luke Somers, the document calls for staff and freelance journalists and the news organizations they work with "to actively join in a shared commitment to safety and a new spirit of collegiality and concern."
The document presents seven basic standards for journalists, local reporters as well as freelancers, on dangerous assignments including training in first aid and hostile environments, securing medical insurance for conflict zones or areas of infectious disease and the importance of having appropriate protective gear, such as vests and helmets. 
It also lays out a parallel set of seven basic standards for news organizations making assignments for the local journalist and freelancers in dangerous places. The standards for news organizations call for local and freelance correspondents used on a regular basis to be treated the same as staffers in regards to training and safety needs offered in the field. It assigns a "moral responsibility" for news organizations to "support journalists to whom they give assignments in dangerous areas, as long as the freelancer complies with the rules and instructions of the news organization." 
The standards grew from a series of conversations in September among editors at major news organizations and expanded to include a broad representation of freelancers, academic organizations and advocacy groups united in concern for protecting journalists and ensuring the free flow of information from crisis areas.
News organizations, journalist associations or advocacy groups interested in joining the guidelines should contact David Rohde, [email protected].
Charles M. Sennott, the Executive Director of The GroundTruth Project, which trains and mentors the next generation of international correspondents, said, "What binds these signatories together is our desire to establish a new culture of safety, a shared understanding among all of us who work – or assign others to work – in dangerous places where important stories need to be told."