Dart, Columbia Faculty Call For Journalists' Release
February 26, 2014
On an international day of protest for five Al Jazeera journalists held in Cairo, Dart Center Executive Director Bruce Shapiro and other faculty of the Graduate School of Journalism at Columbia University, sent a formal protest letter to Egypt's President, demanding the their release.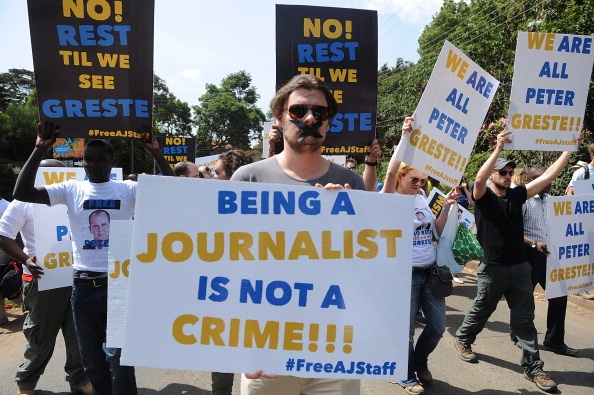 Protesters in more than 30 countries are expected to show their support today for the five Al Jazeerajournalists imprisoned in Cairo. Peter Greste, Mohamed Fadel Fahmy and Baher Mohamed have been imprisoned since December 29. Two other al-Jazeera reporters, Abdullah Al Shami and Mohammed Badr, have also been detained in Egypt since last year. Greste, Fahmy and Mohamed are accused of conspiring to tarnish Egypt's international reputation.
 
Faculty members of the Graduate School of Journalism at Columbia University, including Dean Steve Coll and Dart Center Executive Director Bruce Shapiro, have signed a formal letter to Egypt's President Adly Mahmoud Mansour, demanding their release.
 
Below is the text of the letter. (You can also download the .pdf document from this page or share the letter from this link.)
February 26, 2014
 
His Excellency Adly Mahmoud Mansour
Office of the President
Al-Ittihadia Palace
Cairo, Arab Republic of Egypt
Fax: +202 2 391 1441
 
Dear President Mansour:
 
As faculty members of the Columbia University Graduate School of Journalism, we write to protest the continuing detention of, and criminal proceedings directed against, reporters, producers and other news professionals of Al Jazeera and Al Jazeera English.
In 2011, in recognition of its excellence and integrity, the faculty of our school bestowed the Columbia Journalism Award upon Al Jazeera English.  This award is given annually to a single organization for practicing "singular journalism in the public interest."  Today we are particularly alarmed at the politically-motivated criminal prosecution of this widely-respected network's three staffers Mohamed Fahmy, Peter Greste and Baher Mohammed - veteran news professionals and citizens of three nations - as well as the other Al Jazeera and independent journalists facing charges in this case.
The charges against Al Jazeera/Al Jazeera English staff - such as  "holding illegal meetings" with the Muslim Brotherhood - in effect criminalize universally-recognized standards for professional journalism practice, which require that all sides in public disputes and controversies be reported. As teachers of journalism students from around the world, we recognize that Egyptian civil society is in a time of debate and transition, but such times are precisely when the mission of independent journalism is most relevant. Journalism is not terrorism.  Neither is dissent whether printed or online. 
We also condemn the harsh conditions under which the Al Jazeera English team are being held, described in a letter from Mr. Greste as confining his fellow prisoners "24 hours a day in their mosquito-infested cells, sleeping on the floor with no books or writing materials to break the soul- destroying tedium." We note that Mr. Fahmy has been denied medical treatment for a shoulder injury sustained during his arrest, although he requested such treatment as recently as his bail hearing last week.
We urge your Government and the Office of Public Prosecutor to drop this tainted proceeding, and to free all journalists from Al Jazeera and Al Jazeera English, along with any other news-gatherers now in custody.
Respectfully,
Emily Bell
Professor of Professional Practice & Director, Tow Center for Digital Journalism
Helen Benedict
Professor
 
Nina Berman
Associate Professor
Steve Coll
Dean & Henry R. Luce Professor of Journalism
 
Ann Cooper
CBS Professor of Professional Practice in International Journalism
 
Sheila Coronel
Toni Stabile Professor of Professional Practice in Investigative Journalism & Director, Toni Stabile Center for Investigative Journalism
June Cross
Professor
John Dinges
Godfrey Lowell Cabot Professor of Journalism
Howard French
Associate Professor
Todd Gitlin
Professor & Chair, PhD Program
Ari Goldman
Professor
 
Lynnell Hancock
H. Gordon Garbedian Professor of Journalism & Director, Spencer Fellowship Program
Julie Hartenstein
Associate Dean
 
Marguerite Holloway
Assocaiate Professor & Director. Science and Environmental Journalism
 
Melanie Huff
Associate Dean of Students
 
David Klatell
Professor of Professional Practice & Chair, International Studies
 
Dale Maharidge
Professor
 
Judith Matloff
Adjunct Professor
 
Victor Navasky
George T. Delacorte Professor in Magazine Journalism; Director, Delacorte Center for Magazine Journalism; Chair, Columbia Journalism Review
Mirta Ojito
Assistant Professor
 
Bruce Shapiro
Executive Director, Dart Center for Journalism & Trauma and Acting Director, Professional Programs
Michael Shapiro
Professor
 
Ahmed Shibab-Eldin
Adjunct Professor
Alisa Solomon
Professor & Director, Arts Concentration, M.A. Program
 
Terri Thompson
Director, Knight-Bagehot Fellowship in Economics and Business Journalism 
 
Duy Linh Tu
Assistant Professor of Professional Practice & Director, Digital Media Program
Andi Tucher
Associate Professor; Director, Ph.D. Program
 
Richard Wald
Fred W. Friendly Professor of Professional Practice in Media and Society
Abi Wright
Executive Director, Professional Prizes
 
Note: Faculty members have signed this letter as individuals. This letter does not represent the Trustees of Columbia University.
 
Cc:
Hesham Barakat
Office of the Public Prosecutor
Supreme Court House
26th of July Street
Cairo, Egypt
 
Mohamed Tawfik

Egyptian Ambassador to the United States

3521 International Ct. NW 
Washington DC 20008
 
Hon. Nabil Fahmy
Ministry of Foreign Affairs
Corniche El Nil
Boulak, Cairo EGYPT
Fax +202 25767967