Covering Suicide: Pioneering Workshop Opens
September 21, 2012
Journalists, clinicians and researchers filled the studios at WHYY in Philadelphia to discuss how to address "a national emergency": the rising suicide rate.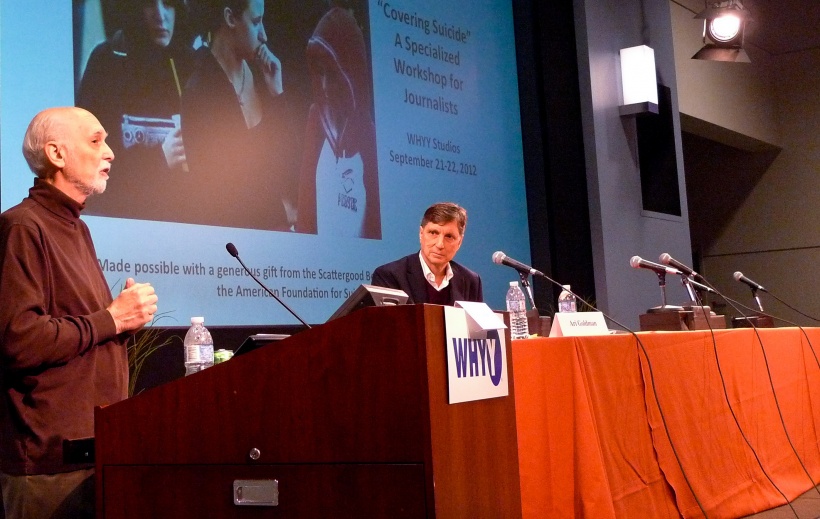 "I have to interrupt you," author and producer Christopher "Kit" Lukas said to Dart Center Faculty Fellow Ari Goldman. Lukas had just finished giving the lunchtime keynote at the Dart Center's "Covering Suicide" workshop in the studios of WHYY in Philadelphia and Goldman was asking him about his mother  "committing suicide."
" 'Committed suicide' is a no-no," asserted Lukas. "She didn't commit a crime. She killed herself."
The exchange was illustrative of the myriad challenges journalists face covering what several speakers described as a public health crisis. Over the course of a panel-packed day, distinguished researchers and advocates from around the country presented scientific studies and personal stories that questioned journalists' language and news choices, and suggested new directions for reporting and presenting stories.
Globally, around one million people die of suicide every year, one every 40 seconds—more than in all wars combined. "We're more likely to die by our own hand than someone else's," pointed out Matthew Nock, a MacArthur Fellow and Harvard professor of psychology.

In the U.S., suicide has been rising every year since 1999, and is now the tenth leading cause of death, dwarfing the number of deaths from homicide and AIDS. And among the top 10 causes of death, suicide is the only one that continues to rise while all others are on the decline. "We should consider this a national emergency," implored Paula Clayton, M.D., the medical director of the American Foundation for Suicide Prevention, a co-sponsor of the workshop along with the Thomas Scattergood Behavioral Health Foundation.

There was near unanimous agreement that more and better coverage is needed, but even that is complicated. Most experts believe that the phenomenon known as "suicide contagion," or copycat suicide, is a real risk. Morning keynote Madelyn Gould, professor of epidemiology at Columbia University, cited studies showing direct increases in suicides following reporting, presenting a difficult dilemma. "What makes a story newsworthy is the same thing that makes it more likely to cause a suicide cluster," acknowledged Gould.

As Day One concluded, the participating journalists–representing print, photography, documentary film and online media—began to ask how news professionals can carry out their mission in a way that respects privacy, promotes prevention, and deepens public understanding of suicide.  The discussions will continue Saturday, when journalists take the stage, followed by story clinics, a master class with Ari Goldman, and brainstorming on recommendations for how journalists can approach this topic moving forward.

The conference is being documented on Twitter, where you can follow the developments at #dartconf. And check back to darcenter.org in the following weeks for videos of all of the panels, as well as tip sheets and other resources.