The Craft of Trauma Journalism
May 13, 2009
Winners of the 2009 Dart Awards for Excellence in Coverage of Trauma discuss journalistic craft and answer questions in a panel discussion at Columbia University.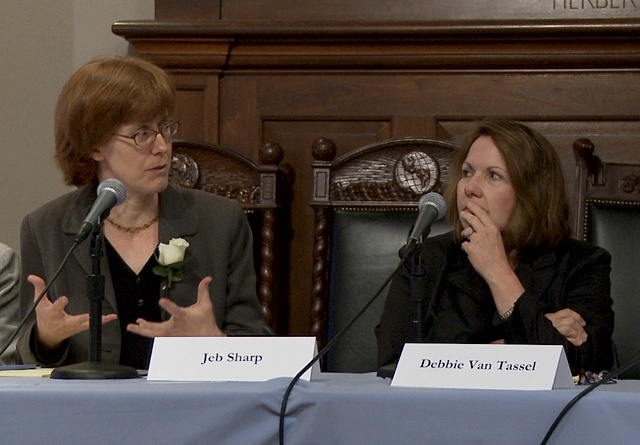 The 2009 Dart Awards for Excellence in Coverage of Trauma were awarded to stories from The Honolulu Advertiser, The Plain Dealer and Public Radio International's "The World." On April 28, 2009, the award-winning journalists came to the Columbia University Graduate School of Journalism for an award ceremony and panel discussion moderated by Dart Center executive director Bruce Shapiro: "Voices of Witness: The Craft of Trauma Journalism."
Part 1
Plain Dealer reporter Joanna Connors explains how she came to tell the story of her own rape, and she and features editor Debbie Van Tassel explain how that story made it into print. Honolulu Advertiser photographer Jeff Widener shows images and page layouts and describes the challenges in visually capturing domestic violence, and staff writer Rob Perez describes how he came to write the seven-day series, having never covered domestic violence before. Public Radio International reporter Jeb Sharp describes, with audio excerpts, how conversations with refugees led her to report her series on victims of brutal rape as a weapon of war. And all the journalists describe how they made difficult decisions regarding which explicit details to include, and which to leave unsaid.
Part 2: Q&A
The panel of journalists answers questions from the audience including: How can newspaper layout be emotionally powerful, sensitive and clear? How do you think about your audience, which includes both survivors and those close to survivors of similar traumas? How do you deal with the hopelessness and disconnection that can come from being engaged in such dark material? Do you ever share personal traumatic experiences with an interview subject? How do your stories deal with perpetrators of violence? And how did the other panelists' stories, all on the subject of gender violence, give perspective on your own work? 
Read more about the Dart Awards and the 2009 Dart Award winners.