Haiti's Crisis Could Help Revive Its Journalism
A recent panel co-sponsored by the Dart Center and the Maria Moors Cabot Prizes sparked discussions about how January's devastating earthquake could help revive journalism in Haiti.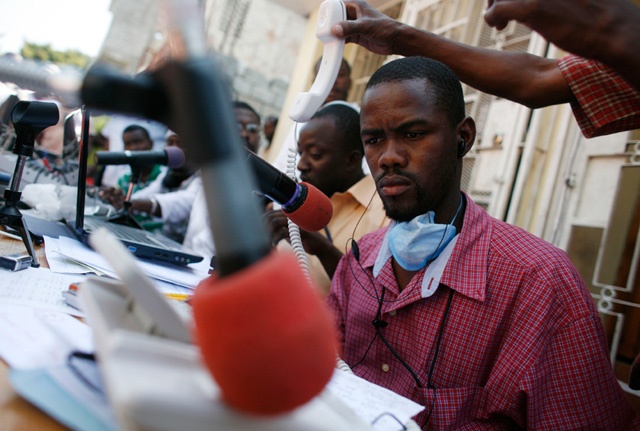 Complete Video from the panel discussion, "The Reinvention of Journalism in Haiti," held at Columbia University on October 27, 2010, is posted at the end of this article.
Journalists in Haiti are, once again, in crisis mode, according to Michèle Montas, an award-winning Haitian journalist and participant in a recent panel co-sponsored by the Dart Center, the Maria Moors Cabot Prizes and the School for International and Public Affairs at Columbia University. But the after-effects of the devastating earthquake could help revive a profession whose ranks have been depleted by political repression, corruption and economic hardship.
Haiti has long endured political instability, including dictatorship by the Duvalier family until the mid-eighties and heavy-handed censorship and propaganda from state-owned media outlets. Over the past decade, during a crescendo of political upheaval, many of the country's best journalists were murdered or forced to flee in the wake of death threats and intimidation. Montas' own husband, Jean Dominique, the country's most famous independent journalist, was murdered in 2000; three years later, she fled the country after repeated death threats and the assassination of her own bodyguard.
Haiti is still reeling from January's massive quake: most of the rubble remains; many people, including journalists, are still living in makeshift camps, where personal safety is compromised, sanitation is poor and they are vulnerable to disease. A cholera outbreak that began in October has claimed hundreds of lives. Now there are frantic attempts to contain the epidemic as it slowly spreads to the country's capital, Port-au-Prince. Meanwhile, the country is about to have another presidential election and journalists have to contend with ongoing corruption and campaigning.
The work of Mario Viau is evidence that while Haitian reporters have always worked in an environment of disaster and violence, there is now an opportunity to turn things around. Viau, the managing director of SignalFM – the only radio station that was able to broadcast live after January's quake – spoke on the panel as a 2010 recipient of the Cabot Prize, which honors journalists whose work has furthered inter-American understanding. 
The reporting that Viau and four brave SignalFM staff did on the first night and following days after January's quake – literally climbing into their station's creaking building after the tremors – was invaluable for conveying critical information to to survivors. But now, explains Viau, many of his staff, some of whom lost family and friends in the quake, are leaving to work for NGOs and relief organizations because they can't make a living as reporters.
Though news organizations like Signal FM continue to responsibly report the news, much of what passes for journalism in Haiti is done by those with political agendas and no formal training; it can be deeply flawed, politically skewed and often libelous.
But when asked what he and his staff could use most, Viau reponded, "Job security, even more so than training." SignalFM continues broadcasting, doing work that Viau considers a public service, even while he keeps losing staff.
It's examples like this one that give hope to Montas, who has been working in the field since the 1970s. She believes that because there is little financial gain for those working in journalism since the devastation of the quake, the people who remain are doing it for the right reasons: they believe that a strong, vibrant, and transparent press is necessary. 
What factors are limiting the Haitian media from rebounding? Garry Pierre-Pierre, the editor and publisher of the New York-based diaspora newspaper, The Haitian Times, observed that foreign reporters parachuting in after the quake didn't help the situation. "Foreign reporters don't hire local reporters as aides when they go to Haiti to report," explained Pierre-Pierre. "Most often they find a person on the street who speaks their native language instead of a Haitian reporter, and this person ends up being a fixer, an unscrupulous person." Pierre-Pierre argued that getting outside reporters to invest in and utilize local resources would assist the news professionals who still manage to work in the country.
Despite that, Montas argues that the earthquake has brought Haiti to the attention of the rest of the world, for a reason other than its status as the poorest country in the Western Hemisphere. 
When asked if she was fundamentally pessimistic about the future of journalism in Haiti, Montas responded: "I think the earthquake – amazingly enough – has had some positive effect on the media as it has opened opportunities for a number of sectors in Haiti. Will we be able to seize that opportunity? I think I'm optimistic that we can. But the Haitian press cannot do it without help." Perhaps a renewed commitment to journalism in Haiti, with support from foreign media, will help reconstruct the press as a force for transparency.
Complete video from the panel discussion, "The Reinvention of Journalism in Haiti," held at Columbia University on October 27, 2010.