Introducing the 2012 Dart Center Ochberg Fellows
September 4, 2012
The Dart Center for Journalism and Trauma at Columbia University's Graduate School of Journalism has announced recipients of the 2012 Dart Center Ochberg Fellowships for journalists seeking to deepen their reporting of violence, conflict and tragedy.
This year's Fellows including outstanding mid-career journalists in all media, representing 10 nations and five continents.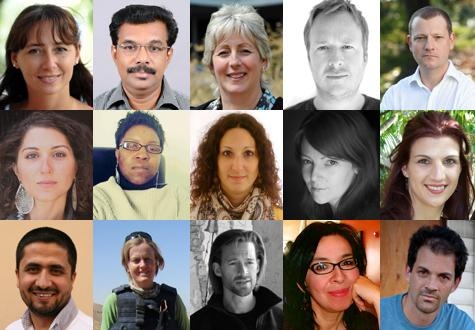 The Dart Center for Journalism and Trauma at Columbia University's Graduate School of Journalism has announced recipients of the 2012 Dart Center Ochberg Fellowships.
The Ochberg Fellowships were established in 1999 by the Dart Center for journalists seeking to deepen their coverage of violence, conflict and tragedy, ranging from street crime and family violence to natural disasters, war and genocide.
The week-long Ochberg Fellowship program offers journalists a unique opportunity to learn about the many dimensions of psychological trauma, to explore ethical and craft challenges and to forge relationships with colleagues who share their interests. Fellows attend seminars with leading experts in trauma science and journalism practice.
The fellowship program is named in honor of Frank Ochberg, M.D., clinical professor of psychiatry at Michigan State University and a pioneering figure in the definition and treatment of post-traumatic stress disorder, Stockholm Syndrome and other responses to violence, trauma and terror. Ochberg, winner of the Lifetime Achievement Award from the International Society for Traumatic Stress Studies, is chairman emeritus of the Dart Center.
Brief biographies of the 2012 Fellows:

María Arce is the editorial coordinator of Clarin.com, the biggest news site in Latin America. Prior to joining Clarin.com in 2008, Arce worked as a producer at Canal 13, Clarin Global, Press TV and the EFE News Agency. In 2009 Arce won the CEMEX-FNPI Prize awarded by the New Journalism Foundation Iberoamericano established by Gabriel Garcia Marquez for her reporting on Obama's Presidential campaign in 2008. In 2010 she won the King of Spain Prize for the same assignment. She has taught journalism at the University of San Andres and guest lectured at other universities in Argentina and Brazil. She lives in Argentina.

KPM Basheer (Mohammed Basheer) has been writing on development and environmental issues, human rights, social conflicts and mental health for The Hindu, a major English-language daily in India, for two decades. His home state of Kerala has had one of the highest suicide rates in Asia. Basheer reported extensively on 'family suicide' whereby entire families ended their lives, mainly due to economic distress, and 'farmer suicide' caused by indebtedness and the sharp fall in the prices of agricultural products. He has also reported on the poor conditions of psychiatric care homes and mental health rehabilitation centers in Kerala. Basheer has won the Sarojini Naidu national award for excellence in journalism, Asian Rice Journalist Award, Panos South Asia Fellowship, and the Hubert H. Humphrey Fellowship of the US Government. He is currently a Special Correspondent with The Hindu and is based at Kochi, Kerala.

Angelina Fusco is an editor for television news for BBC Northern Ireland. She has thirty years' experience covering the Northern Ireland Troubles. Almost half of that period has been spent as the editor of BBC Northern Ireland Television News, leading a large team covering some of the most politically complex, editorially challenging and sensitive stories in any part of Western Europe. For the last 14 years she has been directly responsible for the content of all BBC television news programs in Northern Ireland. Many of these have concerned stories which have generated world headlines, ranging such from the Omagh bombing and IRA and Loyalist ceasefires through to the 100th anniversary of Titanic and the Olympic Torch as well as Royal and US Presidential visits. She recently completed a 12 month attachment as a senior trainer at the BBC's prestigious College of Journalism, working with senior staff from the BBC and other news organizations from around the world.

Alex Hannaford is a British-born freelance journalist living in Texas. He has written about the death penalty, crime, incarceration, religion and human interest issues for publications including the Sunday Telegraph and Sunday Times magazines, The Guardian, GQ and the Texas Observer. He has reported from West Africa, Hong Kong, and Guantanamo Bay. Hannaford spent his early childhood in Nigeria, and cut his teeth in journalism on the South China Morning Post in Hong Kong and the Lymington Times in England – at the time the last newspaper in the country to use hot metal printing. He worked as a feature writer and commissioning editor on the London Evening Standard before going freelance in 2003. Hannaford has taught journalism at Kingston University in the UK, authored a music biography for Random House, and ghosted a memoir about a mother's struggles with her son's addictions.

Stuart Hughes is senior world affairs producer with BBC News, working across TV, radio, online and social media. He has worked in international news for more than a decade, covering major news stories across the globe with some of the BBC's most respected correspondents. While covering the Iraq War in 2003, Stuart stepped on an anti-personnel landmine. As a result of his injuries, his right leg was amputated below the knee. Following his rehabilitation, he resumed his BBC career and continues to travel worldwide on assignment wearing a state-of-the-art prosthesis. Hughes' personal experience of conflict has given him first hand experience and understanding of the physical and psychological toll of reporting violence. He is an active campaigner against landmines and a patron of the Mines Advisory Group. His work was recognized when he was chosen to carry the Olympic Torch in London in July. He is a member of the advisory committee of the Rory Peck Trust, a charity which works to improve the safety and welfare of freelance newsgatherers and their families. He is also a consultant to the International News Safety Institute. He lives in London.

Alia Malek is an author and civil rights lawyer. In both her legal work and her journalism, she has focused on clients and subjects whose voices need amplification, whether in daunting legal processes or in the limited public consciousness. Born in Baltimore to Syrian immigrant parents, she began her legal career as a trial attorney at the U.S. Department of Justice's Civil Rights Division. After working in the legal field in the U.S., Lebanon, and the West Bank, Malek, who has degrees from Johns Hopkins and Georgetown Universities, earned her master's degree in journalism from Columbia University. Her reportage has appeared in The Nation, Salon, The Christian Science Monitor, The WashingtonPost.com, Columbia Journalism Review, and New York Times. In 2009, her first book A Country Called Amreeka: US History Retold Through Arab American Lives was released by Simon & Schuster imprint Free Press. In 2010, she was recruited by Dave Eggers to serve as the editor of the Voice of Witness book Patriot Acts: Narratives of Post 9/11 Injustice, which was released in 2011. Since April 2011, she has been living in Damascus, Syria.

Maria Nyanyiwa Mataruse is a Radio Editor with Zimbabwe's Radio Voice of the People (VOP), a broadcasting house that is currently operating from exile owing to the restrictive media laws in the country. She joined Radio VOP in 2002 as a producer for the popular program "The People Are Talking." In the same year the organization's offices were bombed. In 2005 she was arrested together with two other producers and board members for allegedly broadcasting without a license. After a lengthy trial the case against her and the other employees and board members was thrown out by the courts. To ensure consistency on air, Radio VOP the organization was forced to relocate to South Africa.
Rosa Meneses is a news reporter on the foreign desk of El Mundo, one of Spain's leading newspapers. Since 1999, she has specialized in coverage of the Middle East and North Africa. Since the outbreak of the 2011 Arab Spring, she has covered the Tunisian revolution, the conflict in Libya in all its phases and the civil war in Syria. While covering the Libyan uprising in Misurata Meneses was shot in the back, surviving thanks to a flak jacket. She reported on the war in Lebanon (summer of 2006) and since 2003 she has been travelling regularly to report on events in Algeria, Morocco, Western Sahara, Egypt, Sudan, Yemen, Iraq, Iran, Turkey, the Gulf countries and the Israel-Palestine conflict. Meneses won the Spain's National Award on New Journalism in 2010 for her coverage in Morocco. She currently is a contributor for the think-tanks NOREF (Oslo) and CEIPAZ (Madrid), and an analyst for Radio Nederland (Dutch National Radio's Spanish service) and Revolve Magazine.

Tara Murtha is a writer and columnist at Philadelphia Weekly, where she focuses on news, crime, policy and social justice issues with particular interest in youth violence, sexual violence, gender/media issues and reproductive rights. Murtha is a member of GunCrisis.org, an experimental multimedia collaboration of journalists that documents the gunfire homicide crisis in Philadelphia in search of solutions. In 2012 and 2011, Murtha was honored with the Distinguished Writer award by the Pennsylvania Newspaper Association. In 2012, PW's "The Rape Issue" earned the first place Public Interest award by the Association for Alternative Newsmedia for exposing shortfalls of the criminal justice system in correctly classifying and successfully prosecuting rape. She earned a master's degree in English & Publishing from Rosemont College and teaches journalism at Temple University.

Ashley Powers is a reporter for the Los Angeles Times. She spent four years as a national correspondent based in Las Vegas, where she covered Nevada's economic collapse during the Great Recession and its struggles with homelessness, suicide and child prostitution. She also wrote extensively about survivors of major tragedies, including mass shootings in Aurora, Colo., and Tucson, Ariz., and wildfires in Texas. A 2003 graduate of the University of Toledo in Ohio, Powers now covers courts and legal issues in Southern California. Her work has been honored by the Best of the West and Los Angeles Press Club journalism contests and cited in "The Best American Sports Writing."

Ali Safi is a special correspondent for McClatchy Newspapers' Kabul bureau. Trained as a physician, he has extensive experience reporting on conflict and tragedy throughout Afghanistan, where he's worked with some of the world's leading media, including the BBC, Time magazine, the Guardian, The Times of London, and Germany's ZDF TV, as well as the International Crisis Group. Safi received a Radio Netherlands broadcast journalism fellowship in 2008, and was the producer of the BBC Radio team that won the 2010 Amnesty International Award for Investigative Journalism. He contributed to a 2011 Fortune magazine investigative article that received an honorable mention from the Overseas Press Club and the Best International Story prize from the Society of Business and Professional Editors.

Sally Sara is an award-winning journalist and foreign correspondent with the Australian Broadcasting Corporation. She has reported from more than 30 countries including Iraq, Lebanon and Sierra Leone. In 2011, Sara was the ABC's Afghanistan correspondent. She previously served as Africa correspondent from 2000 to 2005 and South Asia Correspondent 2008 – 2010. Sara has covered a range of stories including the frontline of the war in Afghanistan, 2008 Mumbai terrorist attacks, humanitarian crisis in Darfur, 2005 London bombings, Israeli – Palestinian conflict, sexual violence in the Democratic of Congo and the AIDS epidemic in Africa. Sara is the author of the bestselling Gogo Mama – A Journey into the Lives of 12 African Women. In 2011, Sara was appointed as a Member of the Order of Australia for service to journalism and the community.

Kevin Sites has spent the past decade reporting on global war and disaster for ABC, NBC, CNN, and Yahoo! News. In 2005, he became Yahoo!'s first correspondent and covered every major conflict in the world in a single year for his website, "Kevin Sites in the Hot Zone." The project helped inspire the use of "backpack journalism" as tool for immersive reporting. He is the author of two books for Harper Perennial, In the Hot Zone: One Man, One Year, Twenty Wars (2007) and The Things They Cannot Say: Stories Soldiers Won't Tell You About What They've Seen, Done, Or Failed To Do in War (forthcoming, 2013). He is also a recipient of several major awards, including The Edward R. Murrow Award and The Daniel Pearl Award for Courage and Integrity in Journalism. He was chosen as a Harvard University Nieman Journalism Fellow in 2010 and earned a Master's Degree from Northwestern University's Medill School. He is currently an Associate Professor of Practice at the University of Hong Kong's Journalism and Media Studies Centre.

Dianne Solis is a senior writer at the Dallas Morning News. Her stories have taken her to post-Katrina New Orleans, inside families fractured by addiction to starter heroin, to immigration courts for children, and to a mosque where the Ramadan fast was broken with a FBI agent. As a foreign correspondent with The Wall Street Journal and a Texas-based reporter with the Dallas Morning News, she's written on narcotics gangs and the impact of drug violence and corruption on ordinary people. She also has lectured on reporting in immigrant communities caught in the most significant crackdown in decades. She was a Nieman fellow at Harvard University.

Jeremy Young is a Senior Producer with Al Jazeera English television based in Washington, DC. He joined the channel before it began broadcasting in 2006, and helped launch 'Fault Lines' in 2009, the channel's award winning strand that covers the United States and US foreign policy issues. Jeremy has been on assignment in Honduras, Iraq, Libya, Egypt, Bahrain and India over the past several years for the program. Most of his work has focused on US foreign policy, war, violence, corruption and politics. He has also worked extensively across the United States and has produced several groundbreaking documentaries in jails and prisons. He is currently in production on a program that looks at the lives of deaf inmates.