Journalism and the Tsunami
CNN NewsNight anchor Aaron Brown describes his approach to covering a story that "was beyond anything you could describe."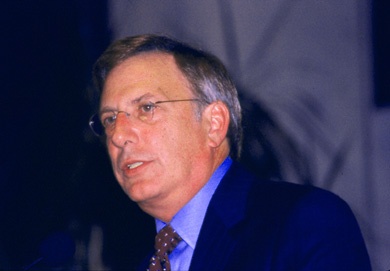 During a quarter century in the business, CNN anchor Aaron Brown has covered his share of tragedy, conflict and disaster. He covered the Sept. 11 attacks, the Columbine High School shootings, the D.C.-area sniper shootings and the aftermath of the Space Shuttle Columbia disaster. "I have covered, in my life, a fair amount of bad stuff," Brown says. "A couple of wars, floods, natural disasters. Indonesia after the tsunami was the worst of it-times a hundred."

The scale and scope of the devastation in the Aceh region taxed his storytelling skills as well as his emotions. "This was a tough one," he said. "I mean, Aceh, not to gross anyone out, but we were literally tripping over bodies ... People who have been around death like that, it has a peculiar and memorable smell to it, and it's not something that you easily rid yourself of."

Giving the keynote speech at the recent Dart Center-sponsored "Journalism and the Tsunami" conference at the University of Washington in Seattle, Brown described his approach to covering a story that "was beyond anything you could describe." He said: "Someone asked me, how do you explain to people 200,000 people dying? I answered, 'You don't. What you do is explain one person dying 200,000 times.'"

"When something is so big that you can't possibly get your arms around it, you make it smaller. You take the smallest, most manageable piece of information, and use that information to tell the larger story. So, 200,000 people didn't die; one person died 200,000 times. That one surviving spouse who lost an entire family becomes the vehicle through which you explain to people the grander tragedy of what has happened here. Because if you do it the other way, I believe, people get lost in it. They can't absorb it. I can't absorb it."

* * *

Brown began his speech with a self-deprecatory tone, praising the talents of two broadcast reporters who had appeared on an earlier panel at the conference-his former colleague at ABC News, Brian Rooney ("Because it was ABC, it also meant that we were competitors," Brown quipped), and CBS News Tokyo bureau chief Barry Petersen. "Whatever they said, they said better than anything I'm about to tell you," Brown said.

He also made light of the position he fills in the hierarchy of TV news, which allows him the title of "anchor" but doesn't earn him the star treatment given to higher-profile anchors and correspondents from the networks. He told about a Navy helicopter ride-along that allowed him to visit an aircraft carrier for a hot meal and a shower. "Now, I didn't learn until later-this is how foolish I was; this is the difference between being a cable anchor and a network anchor-you know Dan's living on that aircraft carrier. Diane Sawyer flew in, she had a nice meal, a shower, got cleaned up, went into Aceh, shot a story, went back to the helicopter, went back to the carrier. It's air-conditioned, it's very nice. I'm a schmuck-I'm sleeping on the floor in this house."

At one point, after describing his living quarters—a rented house with no furniture, running water or electricity—Brown joked, "I prefer my natural disasters where there is a Four Seasons."

At other times Brown was more circumspect. He counts the story that was shot during the aforementioned helicopter ride as "among the better stories I've done in my life." In the segment, the camera shows a young American perform quick visual assessments to decide who among a group of injured will be able to ride the helicopter from a remote village to the hospital. Brown found the story compelling, he said, because "this 26-year-old American kid ... is making literally life-and-death decisions, and he's doing it in front of us in the most extraordinary way." Eventually, Brown said, five villagers were selected to ride to the hospital, while many were left behind, the extent of their injuries unknown. "I felt so guilty about taking space on that helicopter," he said.

* * *

Brown used the helicopter story as an example of why the Americanization of tsunami news coverage was not only necessary, but valuable. "Yes, the focus of that story was a young, American kid-a story we delivered to an American audience," Brown said. "But it said something about what was going on there that was important to communicate.

"I did a panel on this a few weeks back in New York and one of the criticisms was that we Americanized the story too much," Brown said. "When these professors from Columbia have nothing to do but sit around and think of why those of us who actually make these decisions, that tell these stories, that sleep on the floor and battle the dehydration cramps, why we've made some foolish decision or another, I tend to get pretty annoyed." He said he told the professor, "Someday, I want a job like yours. So I can get to sit around and not actually have to make the decisions, but just criticize them. That sounds like a cool gig. But it's not the gig I have."

His job, he explained, "is to try to capture as many viewers, as many eyeballs as I can, and communicate honestly and accurately a story in a way that means something to them. And here's where this gets a little dicey, okay? Here's the truth of it, of the tsunami: It was horrible! It wasn't 9-11 ... For the people who watch CNN America, it was a horrible tragedy that happened to someone else. It did not change their lives, okay? Were they interested in it? Yes, absolutely. For a week they were really engaged in it."

* * *

Brown was candid about the importance of ratings and audience share. He said it isn't his job to educate viewers, or to say, as he put it, "Eat your vegetables!" He said he aims to provide "a balanced meal" for his viewers. "We'll put some vegetables there. A substantial entrée that's good for you ... and some dessert ... That's what we're going to do, and hope we can grab an audience while we're doing it. Because without an audience, what's the point?"

He went on, "I'm glad to talk about this stuff and how we told these stories, but don't expect me—because I won't—to apologize for how we focused them. Because we were trying to engage an audience. I am not in the eat-your-Brussels-sprouts news business. I'm not out there saying, 'You have to care about this!' Because you know what? Click! They don't have to care about anything!"

Brown said that his network's substantial commitment of resources to covering the story outweighed arguments about whether elements of the story were over- or underplayed. "I'm clearly not one of those people who come to these things and pretend that this is not a business and that I'm not fighting for every eyeball I can get," he said. "I'm as honest with you guys as I can be about that. There are pressures to win. And they occur in big stories and small. This was a huge story, and we went at it. And if you want to pick at how we did it, that's cool with me, but I'll probably just respond by saying 'Okay, I understand, but we were there.' We were there, and we will be there, and we are still there."