Journalism and the Tsunami
CNN NewsNight anchor Aaron Brown describes his approach to covering a story that "was beyond anything you could describe."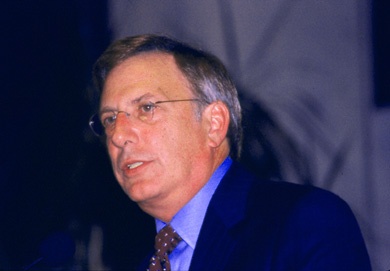 During a quarter century in the business, CNN anchor Aaron Brown has covered his share of tragedy, conflict and disaster. He covered the Sept. 11 attacks, the Columbine High School shootings, the D.C.-area sniper shootings and the aftermath of the Space Shuttle Columbia disaster. "I have covered, in my life, a fair amount of bad stuff," Brown says. "A couple of wars, floods, natural disasters. Indonesia after the tsunami was the worst of it-times a hundred."

The scale and scope of the devastation in the Aceh region taxed his storytelling skills as well as his emotions. "This was a tough one," he said. "I mean, Aceh, not to gross anyone out, but we were literally tripping over bodies ... People who have been around death like that, it has a peculiar and memorable smell to it, and it's not something that you easily rid yourself of."

Giving the keynote speech at the recent Dart Center-sponsored "Journalism and the Tsunami" conference at the University of Washington in Seattle, Brown described his approach to covering a story that "was beyond anything you could describe." He said: "Someone asked me, how do you explain to people 200,000 people dying? I answered, 'You don't. What you do is explain one person dying 200,000 times.'"

"When something is so big that you can't possibly get your arms around it, you make it smaller. You take the smallest, most manageable piece of information, and use that information to tell the larger story. So, 200,000 people didn't die; one person died 200,000 times. That one surviving spouse who lost an entire family becomes the vehicle through which you explain to people the grander tragedy of what has happened here. Because if you do it the other way, I believe, people get lost in it. They can't absorb it. I can't absorb it."

* * *

Brown began his speech with a self-deprecatory tone, praising the talents of two broadcast reporters who had appeared on an earlier panel at the conference-his former colleague at ABC News, Brian Rooney ("Because it was ABC, it also meant that we were competitors," Brown quipped), and CBS News Tokyo bureau chief Barry Petersen. "Whatever they said, they said better than anything I'm about to tell you," Brown said.

He also made light of the position he fills in the hierarchy of TV news, which allows him the title of "anchor" but doesn't earn him the star treatment given to higher-profile anchors and correspondents from the networks. He told about a Navy helicopter ride-along that allowed him to visit an aircraft carrier for a hot meal and a shower. "Now, I didn't learn until later-this is how foolish I was; this is the difference between being a cable anchor and a network anchor-you know Dan's living on that aircraft carrier. Diane Sawyer flew in, she had a nice meal, a shower, got cleaned up, went into Aceh, shot a story, went back to the helicopter, went back to the carrier. It's air-conditioned, it's very nice. I'm a schmuck-I'm sleeping on the floor in this house."

At one point, after describing his living quarters—a rented house with no furniture, running water or electricity—Brown joked, "I prefer my natural disasters where there is a Four Seasons."

At other times Brown was more circumspect. He counts the story that was shot during the aforementioned helicopter ride as "among the better stories I've done in my life." In the segment, the camera shows a young American perform quick visual assessments to decide who among a group of injured will be able to ride the helicopter from a remote village to the hospital. Brown found the story compelling, he said, because "this 26-year-old American kid ... is making literally life-and-death decisions, and he's doing it in front of us in the most extraordinary way." Eventually, Brown said, five villagers were selected to ride to the hospital, while many were left behind, the extent of their injuries unknown. "I felt so guilty about taking space on that helicopter," he said.

* * *

Brown used the helicopter story as an example of why the Americanization of tsunami news coverage was not only necessary, but valuable. "Yes, the focus of that story was a young, American kid-a story we delivered to an American audience," Brown said. "But it said something about what was going on there that was important to communicate.

"I did a panel on this a few weeks back in New York and one of the criticisms was that we Americanized the story too much," Brown said. "When these professors from Columbia have nothing to do but sit around and think of why those of us who actually make these decisions, that tell these stories, that sleep on the floor and battle the dehydration cramps, why we've made some foolish decision or another, I tend to get pretty annoyed." He said he told the professor, "Someday, I want a job like yours. So I can get to sit around and not actually have to make the decisions, but just criticize them. That sounds like a cool gig. But it's not the gig I have."

His job, he explained, "is to try to capture as many viewers, as many eyeballs as I can, and communicate honestly and accurately a story in a way that means something to them. And here's where this gets a little dicey, okay? Here's the truth of it, of the tsunami: It was horrible! It wasn't 9-11 ... For the people who watch CNN America, it was a horrible tragedy that happened to someone else. It did not change their lives, okay? Were they interested in it? Yes, absolutely. For a week they were really engaged in it."

* * *

Brown was candid about the importance of ratings and audience share. He said it isn't his job to educate viewers, or to say, as he put it, "Eat your vegetables!" He said he aims to provide "a balanced meal" for his viewers. "We'll put some vegetables there. A substantial entrée that's good for you ... and some dessert ... That's what we're going to do, and hope we can grab an audience while we're doing it. Because without an audience, what's the point?"

He went on, "I'm glad to talk about this stuff and how we told these stories, but don't expect me—because I won't—to apologize for how we focused them. Because we were trying to engage an audience. I am not in the eat-your-Brussels-sprouts news business. I'm not out there saying, 'You have to care about this!' Because you know what? Click! They don't have to care about anything!"

Brown said that his network's substantial commitment of resources to covering the story outweighed arguments about whether elements of the story were over- or underplayed. "I'm clearly not one of those people who come to these things and pretend that this is not a business and that I'm not fighting for every eyeball I can get," he said. "I'm as honest with you guys as I can be about that. There are pressures to win. And they occur in big stories and small. This was a huge story, and we went at it. And if you want to pick at how we did it, that's cool with me, but I'll probably just respond by saying 'Okay, I understand, but we were there.' We were there, and we will be there, and we are still there."
---
"I'm Having a Bad Day"
Barry Petersen, Tokyo bureau chief for CBS News, explained that, in Indonesia during the weeks after the December tsunami, when one journalist said to another, "I'm having a bad day," that was a signal for others to "back off."
The common phrase became a code to let colleagues know that the pressures of working amid what Petersen called "the psychic onslaught" of devastation and loss, and the sights and smells of death and decay, had begun to take a toll.
Petersen joined other journalists for a panel discussion about what they saw and learned while covering the tsunami aftermath in Southeast Asia.
The session started with a slide show of photos taken by Seattle Times photographer Betty Udesen in the Aceh province of Indonesia. The images flowed in somber procession onto the screen, accompanied by the recorded singing of Ferian Murdi, a young man from Meulaboh, a town in Aceh. As Murdi softly sang for his lost father, the roomful of usually voluble journalists quickly joined the hush.
Udesen acknowledged having several bad days. While following local efforts to collect the bodies of victims, Udesen fell into a covered drainage ditch and received a puncture wound to her leg. Under extremely unsanitary conditions, the wound quickly became infected and forced Udesen to be evacuated. But with conditions what they were on the Indonesian coast, by the time Udesen was actually able to leave, the wound had become gangrenous and required multiple surgeries. Udesen is still undergoing physical therapy as a result of her wound.
* * *
In addition to facing the risk of physical injury, journalists also had to contend with extreme living conditions in Aceh. Udesen's colleague, Seattle Times reporter Hal Bernton, told of living in tents and enduring tropical heat and humidity, all while relying on a tenuous supply of food and water.
Petersen recalled sleep deprivation. He stayed awake more than 24 hours just to reach the area to begin reporting. Then, because of time-zone constraints and needing to provide segments for morning and evening broadcasts, he was forced to make do with two to four hours of sleep a night throughout his time in Thailand and Indonesia. He said the lack of sleep made dealing with the horrific nature of the story all the more difficult.
"I came out of stories where I almost wasn't ... where I thought I wasn't going to be able function for a while," Petersen said. Though he recognizes that reporting is a job that requires attention to dealing with emotions, he noted: "We're not paid to cry on the air."
* * *
When the tsunami hit Thailand, Kimina Lyall, Southeast Asia correspondent for The Australian and normally stationed in Bangkok, was visiting a coastal village where she and her partner own a vacation home. She saw people she knew swept away, some of whom didn't return.
In that moment Lyall became part of a story that she also had a responsibility to cover. The conflict of being involved with the story in two ways was a difficult for her to deal with, and difficult for those around her to understand. People in her community could not understand why she had to leave them in a moment of need to report on people in much the same condition. People within her trade had difficulty understanding what it was like to have the distance she normally relies on suddenly swept away from her.
Her perception of failing to be the neighbor or reporter she wished to be only made it more difficult to be either, she said. "I was crying all the time," Lyall recalled. "I was a basket case four five times a day."
She credits colleagues and her partner with getting her through. Help did not always take the form of a shoulder to cry on. Lyall told of one instance when a colleague stepped in and guided her through the organization of a difficult story she was having a hard time completing.
ABC news correspondent Brian Rooney told several anecdotes about scenes that never made it into his news broadcasts. He described watching as Thai officials moved from body to body at a makeshift morgue, collecting teeth and flesh samples in the hope of keeping something that could be used for DNA identification.
He also told about an incident in Aceh, when the corpse of a baby fell from the back of a truck loaded with bodies. The truck kept going, on its way to a mass grave, leaving the dead baby lying on the road. Eventually, Rooney said, a medic employed by the BBC retrieved the body and added it to a nearby pyre.
---
Journalism and the Tsunami
For the Pacific Northwest, a region with a geological profile not unlike that of the Sumatra region, the threat of an earthquake and tsunami on a scale similar to that seen in Southeast Asia in December is real.
The nightmare scenario-a 9.0 earthquake off the coast, a tsunami rushing at hundreds of miles an hour toward ports and villages, a surge of brown water, in places as high as 80 feet, pushing inland-is likely inevitable, given enough time. But that is reason to prepare, not panic, says Robert Freitag, executive director of the Cascadia Regional Earthquake Workgroup (CREW).
Freitag joined Brian Atwater, of the U.S. Geological Survey, and Timothy Walsh, director of geological hazards for the Washington Department of Natural Resources, for a discussion about what such an event might mean to the Pacific Northwest and how journalists might better understand, report, and help in times of geological disasters.
Atwater sees press coverage of the tsunami as an important opportunity to help people understand science that might keep them safe in the future, and suggests reporters use events like the tsunami as "teachable moments" to inform the public.
* * *
Even though they are often referred to by non-scientists as "tidal waves," tsunamis are rarely shaped like waves. The usual image of a wave is a curling break common to surf waves. Tsunamis, however, hit shore in a more compact, higher volume push much like that of a hurricane storm surge. "Surf waves are wind-generated waves that push along the surface," Walsh explained. But the push for a tsunami comes from a deformation of the sea floor in an earthquake, so the energy source comes from the bottom instead of the top. The difference fundamentally changes the structure of the wave.
A tsunami, which may be traveling in excess of 500 miles and hour, may only have the a height of several feet while at sea. When the deep-water wave reaches land, it decelerates and builds a push that grows in accordance to the energy of the displacement that fueled it. This push does not curl over like a surf wave. (Despite this, a surf wave is often used as the tsunami image, including on official west-coast tsunami warning signs.)
In surf waves, the distance between the high-water and low-water point in the wave is usually easily visible as wave after wave rolls into the beach. In tsunamis, the distance between the peak and trough, which may be tens of miles, generally makes it impossible to see the wave as we see surf waves.
This explains why a tsunami's potentially deadly surge is sometimes foretold by a rapid retreat of the water from the shore, as it was in much of Andaman Sea area.
"The retreat is when the trough of the wave arrives before the crest," said Atwater . The larger the retreat is, the larger the impending surge.
According to Walsh the surge experienced in parts of the Aceh region of Indonesia was likely greater than initially reported. Data suggests that, in some locations, the surge may have reached more than 80 feet.
The panel also described how certain land features could have focused the water volume in certain situations, or allowed for the waves to penetrate further onto costal plains. In some cases the wave penetrated several miles inland. The Aceh region saw water laden with debris spreading destruction and saltwater contamination five miles or more upstream.
Researchers are studying data from the Indian Ocean region in an effort to better understand the possible effects of local land features if a similar event occurs on the Cascadia Subduction Zone, where the Pacific, Juan De Fuca and North American Plates meet. Scientists have evidence that the subduction zone has spawned similar powerful earthquakes in the past. (A complete version CREW's recently released report based on a hypothetical earthquake similar in size to the Sumatra quake occurring in on the Cascadia subduction zone can be found at www.crew.org in PDF format.)
* * *
Journalists can also help by informing the public about efforts to prepare for potential earthquakes and tsunamis. Walsh noted that the two tsunami-warning centers for the Pacific region sent out major earthquake alerts shortly after the December 26 Sumatran quake was detected. No foundation for a warning system was available in any of the stricken countries of Southeast Asia, a fact which greatly contributed to the loss life.
Freitag describes a warning system as having four components: science, intelligence, decision and procedure. In Freitag's model, science is the measurement of the event that has the potential to create a tsunami. Intelligence is the conversion of the data into information for the public sector to use. The decision is the critical point where local government decides whether or not to issue a warning. The procedure is the plan of action set off by the warning.
Although the panelists were clear that the Pacific Northwest's warning systems are superior to what is found in the Indian Ocean , they noted several possible weak spots. According to a pair of reports recently issued by CREW, the inventories of materials necessary for our day-to-day life are reliant on the rapid delivery of materials. Necessities like food water and medicine are kept in small inventories and replenished on a short-term regular basis. This means that if transportation is disrupted by a major earthquake, the inventory of goods at hand would run out quickly, and the ability to replenish them would be halted by damaged infrastructure.
Another gap might be found directly along Freitag's four-point chain; each government body, be it a town, city, county or state, has a separate decision making process. In the case of a coastal evacuation for a potential tsunami, the decision to evacuate for one town might be made by a single individual who understands the scientific intelligence. In the next town it could be made by someone who has little understanding. In the next it could require the consensus of a town or county council, a time consuming situation when time is essential.
To remedy possible delays in decision and communication, the entire panel stressed the importance of individual planning and awareness of tsunami indicators. "Feeling a strong earthquake should be a first warning to evacuate," said Brian Atwater. He encouraged people not to wait for official confirmation of an evacuation. The panelists acknowledged that false alarms would likely occur. But they urged people to understand the importance of continued vigilance in the face of the uncertain prediction process.
---
A Critical Look at the Tsunami Images
Photojournalists and television correspondents who covered the tsunami's aftermath in Southeast Asia faced difficult decisions: What images should they choose to convey the horror and devastation that surrounded them? How gruesome should such news images be? Is the image of a dead body too graphic for the public to see? What about a body that's been wrapped in a plastic bag, or one under a plastic tarp and covered withdry ice? What about a mass grave? Is there a "line" that the news media shouldn't cross when covering such disasters?
Several journalists who were in Aceh, Indonesia, during the weeks after the tsunami joined in a panel discussion titled "A critical look at the tsunami images." Spencer Platt, a photographer for Getty Images, said he didn't think the media should adhere to any strict line. While acknowledging that images shouldn't be chosen for mere shock value, he said that photojournalists have a duty to show the public what is happening in the world, no matter how graphic the resulting images. "One hundred thousand people are dead," he said. "That's part of the story. This is their world. You need to be able to see it and talk about it."
Platt presented a slideshow of some of the photos shot by Getty photographers in the tsunami zone. In one photo, a corpse's decaying arm lies outstretched in the mud, swollen and twisted—the skin has turned a caramel-yellow color with purple slashes. Several photos showed arms and legs sticking out of coffins. Others showed landscapes completely destroyed, entire villages reduced to soggy rubble.
Platt noted that the American public is apparently comfortable watching violence in fictional form (in movies and on television), but when the images involve real people, then they are suddenly deemed unacceptable and in bad taste. "I have troubles with that," he said.
By all accounts, dead bodies were everywhere in Aceh. They were piled on the backs of trucks lumbering down the road, jumbled together in mass graves, strewn here and there amid the wreckage. CBS news correspondent Barry Petersen noted that, as gruesome as many of the images from the tsunami zone were, they are in fact quite tame in comparison to the scenes that journalists witnessed "on the ground" in Aceh. "We get to carry all the images you will never see for the rest of our lives," he said.
In response to the question of how graphic news images should be, ABC news correspondent Brian Rooney said that there is only so much viewers can absorb. Sometimes, he said, showing a less-graphic image that is a reflection of what happened tells a viewer much more than an image of a decaying body.