A Journalist Calls: Reporting Death in a post-Leveson Climate
A Dart Center seminar explored whether there can be value in the journalistic "death knock."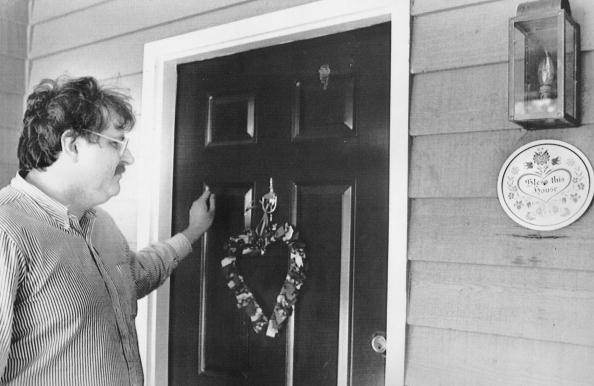 [For resources, click here.]
"We were still saying to people this is the worst job in the world, but you've just got to do it – so off you go. By the way, here's the code of conduct," Jackie Newton, Liverpool John Moores University
"I think it's quite concerning, because I think however polite people are, at the end of the day, you really are afeared to open your front door because you're faced with a question," Bob Dowler, father of Milly Dowler, who was murdered in 2002
A natural response to the harrowing evidence offered by the "victims" of the press at the Leveson Inquiry would be to leave the bereaved and grieving well alone at a deeply painful and personal time. But research by two former regional journalists, Sallyanne Duncan and Jackie Newton, finds that interviewing the bereaved following a tragedy, an understandably undesirable task for journalists known as the "death knock," is an important journalistic activity, even in this new digital age.

 
Their interviews with journalists, bereaved groups and families indicated that many encounters between journalists and the newsworthy bereaved are anticipated and positive, particularly in the regions.
Additionally, they found that reporters were more negative about encounters with the bereaved than the families interviewed.

 
"Most families feel they should have a voice in their story – it is their story," Newton, a senior lecturer in journalism at Liverpool John Moores University, told a Dart Seminar in June 2012 at which she and Duncan, MLitt Digital Journalism programme director at the University of Strathclyde, shared their ideas with a number of journalists, researchers and specialists from the non-profit sector.
According to Newton: "Issues of intrusion arose. Issues of accuracy arose all the time.  Issues of exclusion arose where people would go away and write a whole story and not speak to them about their son or daughter."
Training and technique
While families might wish to participate in the media process, it is often not handled well. Sally Dowler, who has given evidence to the Leveson Inquiry about media interest following the disappearance of her daughter Milly, explained how journalists would "fire a question at you without introducing themselves."

 
"Journalists approach the bereaved from an insufficiently informed position," said Duncan at the seminar. "They tend to rely on their instinct, their gut reaction, previous experience of what they've been told in the newsroom and we feel that's just not a proper way to go about it. You would never send out a sports reporter without them knowing the rules of football. So why can we send out journalists and reporters to cover something as sensitive as working with the bereaved without them knowing anything about bereavement?"
Duncan and Newton advocate more vigorous, and ongoing training for journalists, which should not stop with an afternoon session at a journalism school. Instead, it should be a process of continuing professional development throughout a journalist's career. They also suggest that journalism lecturers should avoid telling their students about their own horror stories in order to explain the death knock as this can undermine students' confidence in undertaking this form of reporting.
Finding purpose
Pam Dix, executive director of Disaster Action, believes there should be a strong purpose in pursuing a story about a person's death. In her view, journalists have to ask themselves: "What's the purpose of telling the story? Why are you knocking on the door? Why are you there? Do you just want to tell another sad story about an 18 year old… or is there a cover up [or] conspiracy theory going on?… Is there a public service aspect here?"
Whereas the police have a clear professional objective to investigate, the media has a more complicated role, she said. "The purpose of the media is always to get the story out: sometimes it will be by subterfuge, whether you like it or not, and sometimes your agenda will coalesce with agenda of family – often it will not," she told the seminar group.
The duration of the purpose must also be considered: "When do you move from 'They have a right to have their story told' to becoming interfering?" asked Martin Annis, British Red Cross Senior Emergency Planning Officer. He gave an example from the shootings in Cumbria in 2010, where the community was greatly distressed by "the constant pressure of the media who were trying to get follow up stories"…"It was the media intrusion which was the tipping point" for the local people's tolerance of journalists' interest and presence," he said.
Effect of coverage
It is not just the journalistic approach than can cause anguish, it is the coverage itself. Unquestionably, inaccurate or intrusive media coverage can have a harmful effect on families already coming to terms with horrific circumstances.
Evidence submitted to the Leveson Inquiry by Margaret Watson, whose 15 year-old son Alan was found dead in 1992 clasping press cuttings about his sister's murder the year before, described how particular articles "had a devastating effect on our whole family, at time [sic] when we were struggling to come to terms with the murder of our daughter. It was extremely distressing and traumatic to read these misleading and defamatory accounts in the press."  She later told the Inquiry: "Just because a person's deceased, you can write what you want, and they certainly did it."
Additionally, many participants felt that the family should be informed of the purpose of the piece. Jackie Newton emphasised that the offer of a commemorative piece, which gives the family an opportunity to share their memories, should be sincere: "Honesty is one of the things the families wanted: If you're not going to do a tribute, don't say you're going to do one…"
Self-protection for journalists
Journalists should not forget their own needs either. Another seminar participant talked about the guilt suffered by journalists because of the way they have interacted with interviewees and also for the decisions not to cover something owing to the dangerous circumstances. There is growing evidence to suggest that feelings of guilt for inappropriate conduct can play a part in the development of post-traumatic stress disorder as well as depression.
Additionally, Duncan and Newton believe that a negative perception of the "death knock" or interviewing bereaved families can put additional psychological strain on journalists.