Torn Apart: Reporting Heartbreak
When a crew from Channel Nine's '60 Minutes' interviewed a family who lost their baby girl and both grandmothers to the Queensland floods, some said they exploited their grief. Correspondent Michael Usher begs to differ.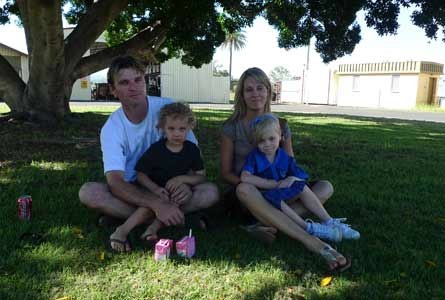 Editor's Note: On February 11, Channel Nine's "60 Minutes" featured "Torn Apart," an exclusive interview with Matt and Stacey Keep of Grantham, whose baby girl was swept from her mother's arms by the raging flood; each of the couple's mothers also perished. In a piece published on ThePunch.com, Tracy Spicer contends that the TV crew went too far. Correspondent Michael Usher explains the delicate process of reporting on heartbreak.
Photo: Nine Network / 60 Minutes: Matt and Stacey Keep with their two surviving children.
------
It's the worst part of being a working journalist: Those times you approach people for their story when they've been through the most terrible time of their lives.
I'd love it if every story was just the opposite. And mostly, they are on "60 Minutes." This week, I've finished writing stories on adorable animals, a very successful businessman, a surprising health advance, and a man who risked his life in a war.
But last week, my focus was on the Keep family, who lost their two-year-old daughter and both her grandmothers when their house literally was ripped open in the Grantham flood.
This story – aired second in our rundown – was heart-breaking and raw and uncomfortable. It was very real, and it was very soon after the event on January 10.
But was it the intrusive kind of interview known in journalism circles as a "death knock"? Well, I guess that's an easy hook for an article, but it cheapens the strength of the Keep family and our story.
It suggests we ambushed this family, gave them no warning, no options, no control, no respect. That we hit them up at home and had no regard for their privacy.
Well, in this case, it was the absolute opposite. I have never been involved in a more delicate and sensitive story process. And producer Jo Townsend has allowed me to say exactly the same for her.
So, some background: We received an e-mail to 60 Minutes from relatives of the Keeps, expressing their interest in telling their story once, and once only.
Their story had been reported widely in the press and they'd been bombarded with inquiries from journalists, and in a few cases direct requests on Stacey Keep's Facebook page (The new "death-knock"?)
We replied to the relatives and after many phone conversations, Jo went to the Lockyer Valley and met with these relatives and listened to their story over two days. They wanted to know they could trust us and how we'd go about the story.
Then it was agreed Jo could meet Matt and Stacey in person. That happened. I then met the couple face to face. We talked. We wanted to know Stacey's health was OK to proceed with the story. She is 27 weeks pregnant.
We agreed shooting would be limited to a short number of sequences and the main interview, all at Stacey's pace and approval. We made sure there were no surprises and waited until the Keeps had been back to their home, neighbourhood and rail-line on their own before we re-visited these places with cameras.
Meantime, Jo met with local Grantham officials a number of times to make sure we were OK to film in the town – especially the places where their ordeal took place. The mayor and police superintendent especially were supportive and talked with the Keeps as well.
We shot the story over three days. Every morning, Jo spoke with Matt and Stacey and sought approval for what we'd be doing that day. Stacey did not have to be there the entire time, and wasn't.
After we finished shooting, Jo has been in contact with them every day, often a few times a day. We warned them when the promos began airing – and, in a very rare move, we sent a copy of the cut story to the Keeps before it appeared on 60 Minutes so they were comfortable before everyone else watched.
Matt and Stacey's conditions on the interview were simple and firm. They told me they wanted to tell their story so that they could get on with their lives, get on with re-building in Grantham. They hope to help shine a spotlight on the lack of flood warnings and raise some awareness for the plight of their hometown.
And judging by the simply overwhelming response to the story – amazing, in fact – all those points have been achieved. The material and emotional support for this family and their town is meaningful and real.
Speaking with Matt yesterday, he said after the story "they felt stronger." And that matters a lot to me.
Have an opinion about our reporting style and story choice, but hopefully now you will better understand how we went about it.
I'm lucky to work on a program that has time and resources, so when we inevitably report on the downside of life, we can approach it sensitively.
I hope that was the case this time, because both Jo Townsend and I went to great lengths to make sure the Keeps and their story was handled the best possible way for such a traumatic event. 
This article, which originally appeared on The Punch, is reprinted with the author's permission.