Mentally Unfit, Forced to Fight
The U.S. military is sending troops with serious psychological problems into Iraq and is keeping soldiers in combat even after superiors have been alerted to suicide warnings and other signs of mental illness, a Courant investigation has found. Originally published in the Hartford Courant, May 2006.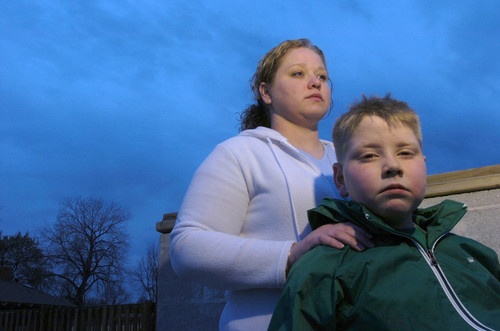 The U.S. military is sending troops with serious psychological problems into Iraq and is keeping soldiers in combat even after superiors have been alerted to suicide warnings and other signs of mental illness, a Courant investigation has found.

Despite a congressional order that the military assess the mental health of all deploying troops, fewer than 1 in 300 service members see a mental health professional before shipping out.

Once at war, some unstable troops are kept on the front lines while on potent antidepressants and anti-anxiety drugs, with little or no counseling or medical monitoring.

And some troops who developed post-traumatic stress disorder after serving in Iraq are being sent back to the war zone, increasing the risk to their mental health.

These practices, which have received little public scrutiny and in some cases violate the military's own policies, have helped to fuel an increase in the suicide rate among troops serving in Iraq, which reached an all-time high in 2005 when 22 soldiers killed themselves -- accounting for nearly one in five of all Army non-combat deaths.

The Courant's investigation found that at least 11 service members who committed suicide in Iraq in 2004 and 2005 were kept on duty despite exhibiting signs of significant psychological distress. In at least seven of the cases, superiors were aware of the problems, military investigative records and interviews with families indicate.

Among the troops who plunged through the gaps in the mental health system was Army Spec. Jeffrey Henthorn, a young father and third-generation soldier, whose death last year is still being mourned by his native Choctaw, Okla.

What his hometown does not know is that Henthorn, 25, had been sent back to Iraq for a second tour, even though his superiors knew he was unstable and had threatened suicide at least twice, according to Army investigative reports and interviews. When he finally succeeded in killing himself on Feb. 8, 2005, at Camp Anaconda in Balad, Iraq, an Army report says, the work of the M-16 rifle was so thorough that fragments of his skull pierced the barracks ceiling.

In a case last July, a 20-year-old soldier who had written a suicide note to his mother was relieved of his gun and referred for a psychological evaluation, but then was accused of faking his mental problems and warned he could be disciplined, according to what he told his family. Three weeks later, after his gun had been handed back, Pfc. Jason Scheuerman, of Lynchburg, Va., used it to end his life.

Also kept in the war zone was Army Pfc. David L. Potter, 22, of Johnson City, Tenn., who was diagnosed with anxiety and depression while serving in Iraq in 2004. Potter remained with his unit in Baghdad despite a suicide attempt and a psychiatrist's recommendation that he be separated from the Army, records show. Ten days after the recommendation was signed, he slid a gun out from under another soldier's bed, climbed to the second floor of an abandoned building and shot himself through the mouth, the Army has concluded.

The spike in suicides among the all-volunteer force is a setback for military officials, who had pledged in late 2003 to improve mental health services, after expressing alarm that 11 soldiers and two Marines had killed themselves in Iraq in the first seven months of the war. When the number of suicides tumbled in 2004, top Army officials had credited their renewed prevention efforts.

But The Courant's review found that since 2003, the military has increasingly sent, kept and recycled troubled troops into combat -- practices that undercut its assurances of improvements. Besides causing suicides, experts say, gaps in mental health care can cause violence between soldiers, accidents and critical mistakes in judgment during combat operations.

Military experts and advocates point to recruiting shortfalls and intense wartime pressure to maintain troop levels as reasons more service members with psychiatric problems are being deployed to the war zone and kept there.

"What you have is a military stretched so thin, they've resorted to keeping psychologically unfit soldiers at the front,'' said Stephen Robinson, the former longtime director of the National Gulf War Resource Center. "It's a policy that can do an awful lot of damage over time.''

Army officials confirmed that 22 soldiers killed themselves in Iraq, and three in Afghanistan, in 2005. The Army suicide rate was about 20 per 100,000 soldiers serving in Iraq -- nearly double the 2004 rate, and higher than the 2003 rate that had prompted alarm. Three Marines also committed suicide in Iraq last year.

The military does not discuss or even identify individual suicide cases, which are grouped with other non-combat deaths. The Courant identified suicide victims through Army investigative reports and interviews with families.

Although The Courant determined that a spate of six suicides occurred within eight weeks last year, from late May to July, there is no indication that the military took steps to respond to the cluster.

While the 2005 jump in self-inflicted deaths was as pronounced as the 2003 spike that had stirred action, Army officials said last week that there were no immediate plans to change the approach or resources targeted to mental health. They said they had confidence in the initiatives put in place two years ago -- additional combat stress teams to treat deployed troops and increased suicide prevention programs.

Col. Elspeth Ritchie, the top psychiatry expert for the Army surgeon general, said that while the Army is reviewing the 2005 suicides as a way to gauge its mental health efforts, "suicide rates go up and down, and we expect some variation.''

Ritchie said the mental health of troops remains a priority as the war enters its fourth year. But she also acknowledged that some practices, such as sending service members diagnosed with PTSD back into combat, have been driven in part by a troop shortage.