Mexico's Journalists Under Siege
An unprecedented spike in violence is testing the skills and freedoms of the press in North America's youngest democracy.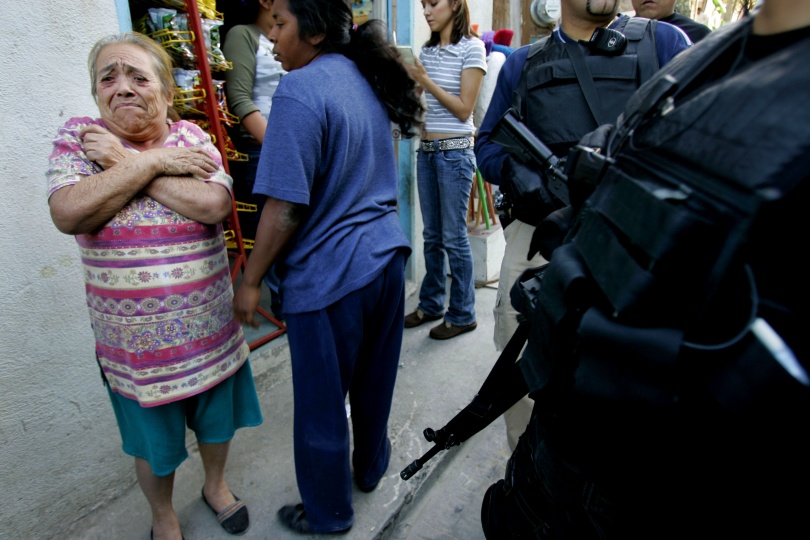 More than 3,800 citizens killed by organized crime so far in 2008.
Twenty-three journalists murdered since 2000.
Second only to Russia in journalists "disappeared" since 1982.
"The numbers are eloquent," Carlos Lauria of the Committee to Protect Journalists said, introducing the statistics projected onto the screen behind him. But as the conference — "Scared Silent: Mexico's Journalists Under Siege" — continued at Columbia University's School of Journalism, it became clear that the numbers don't tell the whole story.
Why the new spike in violence, when the primary cause — warring drug cartels — isn't new? And, with Tijuana experiencing as many deaths in recent weeks as Baghdad, how do reporters approach a story that combines challenges conventionally associated not just with organized crime, but with terrorism, repression and war?
For reporters accustomed to a standard crime beat, one challenge Mexico poses is covering chronic violence as a "social story," in the words of Jose Luis Santiago Vasconcelos, former Deputy Attorney General for Organized Crime, "instead of reporting it from a cops and robbers point of view."
Angela Kocherga, the border bureau chief for Belo Television, echoed this sentiment, describing news consumers as experiencing "battle fatigue." "We need to get past the body count," she said, and cover the impact on communities. But as the conference made clear, the absence of such stories is less a reflection of journalists' desires than of the threats, direct and indirect, that face those who expose people in power.
When Joel Simon, of the Committee to Protect Journalists, asked a panel of Mexican reporters what stories they would write if they faced no threat of danger themselves, all of them described connecting the killings and kidnappings to the networks of criminals, politicians and consumers that underlie the drug trade and give the local violence global significance.
Dudley Althaus, Mexican bureau chief for the Houston Chronicle wanted to profile a "drug town," to "go into a town and investigate everyone." Mariana Martínez Esténs, a journalist based in Tijuana, wanted to write a "tomato story," following a kilo of drugs from production to consumption the way journalists follow a tomato from vine to ketchup. Kocherga's dream story was tracing the "tomato" traveling in the opposite direction; she wanted to follow the guns, which originate largely in the United States.
Ramón Alberto Garza, CEO and President of Montemedia Indigo Media, admonished the media, himself included, for not telling these kind of stories and focusing instead on the "puppets."
"We have forgot the puppeteers," said Garza. "We are counting bodies, having statistics, and talking and talking about every year more journalists fall because of this situation … but we are failing to go deeper on what is producing this. As well as the government is quote 'failing' at tackling the drugs and corruption, we are failing at identifying the real source of such corruption, and we are wasting our time."
But when Bloomberg investigative reporter Michael Smith asked if it would be possible to write stories that attempt to go deeper, to connect the dots and name names, the answer came back that journalistically it would be easy.  In practical terms, however, it would be almost impossible.
The practical challenges include consolidation of power — Says Garza, "We have two beers, two colas, two TV stations, two cement companies, one and a half telecommunications." — and the pervasive connections between the powerful in business, media, politics and organized crime. They include threats against reporters, as direct as an AK-47 pointed at a photographer or a grenade rolled into a newsroom. They include the limited punishment of crimes against journalists, with only 14% of journalists' murders ending in convictions.
There are no easy fixes to the social climate that has caused Mexico to rank 10th on the Committee to Protect Journalists' Impunity Index. But the net result is what Alejandro Junco de la Vega, president of the Grupo Reforma newsgroup, called in his keynote speech a "noxious, toxic cocktail" where it is easier to make a living in crime than to start a small business; where politicians are corrupted by the choice of "plata o plomo: silver or lead." He spoke of the changes he has had to make at his Mexico City newspaper, Reforma, in order to remain independent: withholding bylines of reporters, varying commuting routes to avoid kidnappers and even moving his family to a safe haven in the United States. But despite all these costs, he ended on a note of defiant optimism.
"I have seen enough in the capacity of human beings to make each new day better to convince me there is always hope. We are, all of us, members of communities, and there is not a community in the world that cannot be better protected by a good newspaper who speaks out. And, ladies and gentlemen, there is not a criminal alive that can scare us silent."
You can listen to the rest of Junco de la Vega's speech and find more resources about the situation of the press in Mexico on the conference website.
And, through the Columbia University website, you can also listen to a panel on the same subject with the winners of the 2008 Maria Moors Cabot Prize for outstanding reporting on Latin America and the Caribbean: Carmen Aristegui, anchor, CNN en Español and Reforma newspaper (Mexico); Michael Smith, senior writer, Bloomberg Markets magazine; Sam Quiñones, general assignment reporter, Los Angeles Times; and Gustavo Sierra, international news desk editor, Clarín newspaper (Argentina).