New Media Landscape, Less Media Safety
These days anyone, regardless of training, can blog from the frontline of a conflict zone or delve into the shadowy dealings of some local Mr. Big. How will they protect themselves?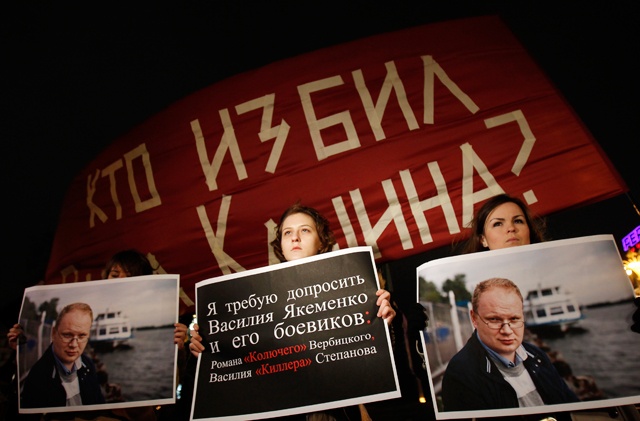 Certain kinds of journalism have always carried their risks, but the pool of reporters facing them used to be much more limited than it is now. The era of the printing press made it possible for everybody to read accounts of crime and conflict, but it did not enable just anybody to go out and journalistically witness them. Now in the new dawn of the digital age – with its Twitter accounts, flip cams and i-Phones – anyone, regardless of whether or not they are on the staff of a news organisation, can blog from the frontline, or delve into the shadowy business dealings of some local Mr. Big. 
On Nov. 10 in Athens, I had the opportunity to take party in an important safety symposium organised by the International News Safety Institute (INSI) on the physical and psychological threats facing newsgatherers in Southeastern Europe. There, in a keynote speech, Reuters Editor-in-Chief David Schlesinger presented the established media with a thorny challenge: 
If news organisations are becoming increasingly unwilling to expose their own staffs to the highest risks, as Schlesinger believes they should, does that not also mean that they have an obligation to warn not just freelancers but also a new cadre of what he termed "self-selected journalists"? This is what he said:  
With the great democratisation of technology, there have never been so many people in every country on earth who have both the ambition and now the means to publish their views, thoughts and images without the structure of a large institution around them.
This has many wonderful implications for journalism.
It has many frightening implications for safety.
Note that Schlesinger is not directly referring to freelancers here. These should still be deterred from taking on news assignments that news organisations decide to be too dangerous for their own staffers. The "self-selected" are the self-publishers, the independents, perhaps entrepreneurial journalism graduates or talented outsiders. They look set to play a key role in maintaining the health of civil societies. And so what responsibility does the established media have towards them? 
INSI Director Rodney Pinder reminded the audience of how a culture of impunity in Russia has had a chilling effect on independent journalism. As he spoke, Kormmersant reporter Oleg Kashin was in hospital in an induced coma, after receiving a savage beating from thugs. The attackers appear to have been intent upon destroying the very hands he uses to type his reports.  
The situation in Southeast Europe echoes the broader global fissures opening up in the old media regime. New concentrations of media ownership, new technology and the new politics of public anger at the damage wrought by the financial mismanagement of politicians and bankers all appear to be expanding the dangers. 
And with reference to news organisations, it is not just their specialist war reporters or crime correspondents who are at risk, but increasingly those who had never considered themselves in the line of fire. Kashin, for instance, is a social affairs reporter, who had recently been writing about a controversial road development project.  
Oliver Vujovic, Secretary-General of the South East Europe Media Organisation (SEEMO) sees the greatest dangers coming not so much from the old suspects –  the internal police – but from a new category of "so-called businesspeople,"  a twilight collaboration of powerful business actors who have murky business plans and ill-defined provenances with out-and-out crime figures.
In Greece and elsewhere, anger at exclusion and corruption is leading some citizens to take certain matters into their own hands, but unfortunately it is not always cameras or laptops they are reaching for. Journalists, attending the event in Athens described how at recent demonstrations they had faced attacks and intimidation from protestors as well as police. 
Elizabeth Filippouli, director of Global Thinkers and a former Al Jazeera reporter who chaired the debate, asked what the journalism community needed to do to address the belief, widely held in some quarters in Greece, that the media has been rubbing along a shade too comfortably with vested interests and has failed to represent opposing voices. Although no clear conclusions were forthcoming – it was not just staunchly pro-government journalists who had experienced aggression – the question seeded discussion on the importance of probity, self-value and moral clarity to journalists facing violence and intimidation. 
In fact, this trajectory fed ineluctably into a broader conference theme about trauma and the emotional impact of journalistic work in extreme situations. 
How people stay resilient is a complex issue, and there is not the space to go into detail here. However, recent research by Steven Southwick and others suggests that journalists who support each other, who are engaged in open reflection and who clarify their sense of ethical purpose typically do better than those who fail to do so. 
Before this event, the need for trauma awareness had not received much attention in Greek journalism. Journalists in the audience reacted to a short Dart Centre briefing on traumatic stress with concerns that any colleagues who found themselves in trauma trouble were unlikely to know that such conditions as post-traumatic stress disorder (PTSD) can be treated, and usually with high rates of success. The need for good management and the tackling of stigma was aired. 
If the day had a single, unified take-home message it was a simple one. That journalists everywhere –whatever their region, separate company boundaries or professional silos – need to own the safety issue, to discuss it openly with their colleagues and to make it their own. The intent shown by this gathering of journalists in a room of the Foreign Press Association in Athens was a valuable step in that direction. 
Read the full text of Schlesinger's speech here. It is an important waypoint in the continuing debate on journalism and safety.